Wristen: New Major League Soccer stadium is backyard treasure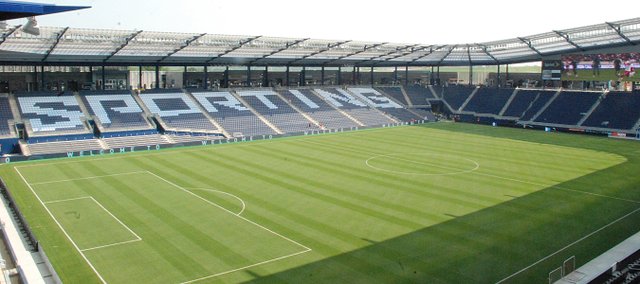 Kansas City, Kan. — After 16 months of construction, the hole in the ground next to the Kansas Speedway has been transformed into a palace.
It's a soccer kingdom, really.
Yes, LIVESTRONG Sporting Park is open for business, and all indications are that it was worth the wait. It was worth having the franchise hop state lines into Kansas. It was worth spending a few years watching Major League Soccer games on a baseball field at CommunityAmerica Ballpark.
Much like the new stadium transformed the landscape where it now stands, it has the potential to revolutionize the sport right in our own backyard.
From a business standpoint, it puts the area on the map. Global soccer powerhouse Manchester United recently visited Kansas City, albeit at Arrowhead Stadium, and the new stadium likely will help lure more international teams to the area. LIVESTRONG Sporting Park played host to the United States National Team Tuesday night in a Gold Cup match, showcasing the facility as a hotspot for future international competition.
Beyond soccer, it'll be a concert venue and a possible boxing and mixed martial arts venue. It wouldn't surprise me if we also see high school soccer — and possibly football — state championships played there in the coming years.
Ultimately, the stadium's opening is a benefit to the youth in the area. According to the Sporting Goods Manufacturers Association, the number of kids playing high school soccer has doubled in the United States since 1990. More than 3 million youths ages 5-19 participate in the United States Youth Soccer Association. By building LIVESTRONG Sporting Park in our backyard, it gives local soccer players something to dream about — just like current Sporting KC players and Kansas City natives Matt Besler, Seth Sinovic, Jon Kempin and Kevin Ellis did.
It also gives them a place to practice. Sure, local youths won't practice inside LIVESTRONG Sporting Park, but they can train very close to it when the youth soccer facility opens at Wyandotte County Park. It is expected to include 18 tournament-quality fields.
When families drive past the new stadium on the way to or from practice or tournaments at the youth facility, LIVESTRONG Sporting Park can represent a tangible goal.
Soccer is growing in Bonner Springs and Basehor, as well as in other surrounding areas such as Tonganoxie, Shawnee, Lansing and Leavenworth.
In Johnson County — where soccer has thrived for years and numerous state championship soccer programs reside — the Overland Park Soccer Complex is a hotbed of activity on a daily and nightly basis.
Now, another part of town is going to have a greater opportunity to thrive on the pitch. The new youth facility will be the training ground, but the new stadium — the grandest soccer palace in the Midwest — can be the ultimate source of motivation.