Officials still deciphering annual yearly progress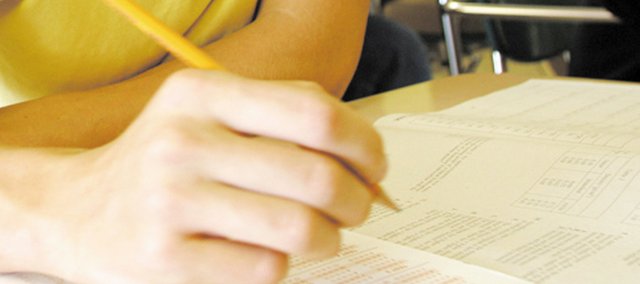 All three elementary schools in USD 204 made adequate yearly progress last school year, as did Bonner Springs High School.
Clark Middle School and the district as a whole, however, fell short.
But that's just how the situation looks now, and Leticia Porter, AYP assessment coordinator, said during Monday night's board of education meeting the preliminary data was changing almost daily — too frequently for her to offer any definite results at this time.
The federal No Child Left Behind Act requires states to determine whether schools and districts are making adequate progress to get all students proficient in reading and mathematics by 2014. In each year leading to 2014, the target percentage increases.
Porter noted how challenging the process of going through the data has been, as school officials have had to sort through the scores student by student to verify results and determine such components as what subgroup the student falls under or whether the student changed schools during the testing window, both of which can affect USD 204's chances of making districtwide AYP.
Students who change schools during the testing window and those in various subgroups can affect whether USD 204 makes districtwide AYP, Porter said, because if a student changes schools shortly after taking an AYP test, that student's scores no longer have any effect on the previous school but on the district as a whole. Similarly, students in multiple subgroups can affect the district's AYP status because if the student doesn't make AYP on his or her test, those scores affect all the subgroups the student falls under, including the district as a whole.
Subgroups of students have to be named for testing purposes when at least 30 students fall into one specific category. Subgroups in USD 204 include all students, African American, Caucasian, Hispanic and economically disadvantaged, among others.
Schools receiving federal money that don't make AYP for two years in a row are "identified for improvement" under No Child Left Behind, which is intended to allow parents to make informed decisions about their children's schools. Schools identified for improvement must formulate a plan to get students up to proficiency standards by the next round of AYP testing and students are eligible to transfer to another public school in the district.
Last year, all five schools in USD 204 made buildingwide AYP.
According to the Kansas State Department of Education website, a media briefing of final AYP results is scheduled for Oct. 7.