Aquatic Park visits take a dip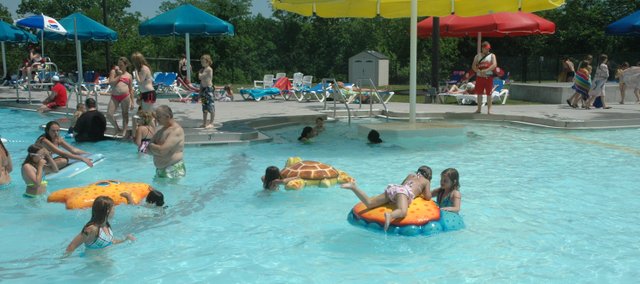 Attendance has been a bit down so far this summer at the Bonner Springs Aquatic Park, but parks and recreation officials hope it will improve in the second half of the season.
In a report on attendance numbers through June 22 given to the Bonner Springs City Council, the pool has fallen behind in comparison to the same period last year, if only slightly in many areas — for example, average daily attendance has been 185 this year, compared to 198 last year.
Betsy Saxer, aquatics supervisor, said there were several reasons for the slightly diminished numbers compared to last year — the first being that the pool shortened its hours this summer to help save on costs. There also have been several rainy days thus far in the season, or storms that have caused mechanical or electrical issues.
The shorter hours, and even some pool closures, were necessitated by two pool filter problems and a chemical balancing problems early in the season.
"Safety's our number one priority, so we do what's needed to address that as it occurs," Saxer said.
The shorter hours are reflected in attendance numbers thus far. Total daily admissions were 3,632 by June 22 last year but were about 200 fewer at 3,446 by the same date this year.
Resident family memberships are on par with last year, 201 compared to 202 in 2010, but nonresident family memberships fell to 104 compared to 2010's 125. Individual resident memberships also fell from 23 last year to 14 this year, while nonresident memberships remain steady at four.
One increase from last year has been seen in the number of 10-punch pool passes sold. This year, 31 of the passes have been sold at $40 each, compared to 20 last year.
Saxer said there had been mixed success with some of the pool-related programming offered. Newer programs like the Discover Snorkeling and Discover Scuba classes didn't garner enough registrants in their first sessions, but the programs still are being offered at additional times in July for anyone interested.
Saxer said she also hopes to offer different times next for the aqua fitness program, currently only offered in the mornings.
"That time frame doesn't seem to be appealing," she said. "With the water being a little bit cooler in the morning, it's less inviting to seniors who might want to participate in an outdoor pool. I would like to see an evening class in the future."
Sessions for diving lessons and swim lessons also are still available in the second half of the summer, which Saxer believes will be busier with temperatures climbing higher. Wednesday's forecast high was 92 degrees with highs in the upper 90s forecast through the weekend.
Registration is due the Thursday before any pool class begins.
A positive sign for swimming at the pool is that the Bonner Springs Dolphins Swim Team has doubled in size compared to last year with 50 swimmers, Saxer said.
One of the benefits of cutting back hours was that it allowed more times available for rental of the pool facility for evening parties and events. Saxer said she would like to see the pool rented more often, but there have been two rentals already this season, with another two scheduled.
The Parks and Recreation Department will celebrate Park and Recreation Month in July by encouraging residents to take part in recreational activities. Some pool-related activities will take place this weekend.
On Friday, the pool will offer $2 admission fee for the last two hours of open swim. Normal admission fee is $5 for everyone 2 years and older. On Saturday, it will have $3 concession combinations.
Later this month, a midseason pool membership can be purchased beginning July 12, and a pool member family night is scheduled from 7:15 to 9:15 p.m. July 17 after open swim hours.