Looking to a bright future
Recently a young mother was showing a group of us her new, baby daughter. She was a darling little girl with plenty of dark hair and bright eyes. At one point, her tiny hand gripped my finger and sent a wave of memories flowing. As most of you know, I was fortunate to have three wonderful daughters and I found myself thinking about how many years it had been since we had tiny daughters in our home.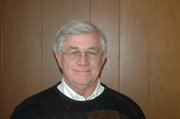 I thoroughly enjoyed raising children — while it was tremendously hard and challenging work, it was the most enjoyable period of our lives.
Certainly being a parent requires sacrifice. Your children have to be the most important facet of your lives. It might mean giving up a hobby that you enjoy, but raising a well-adjusted adult makes the sacrifice worthwhile. I've always felt that you had a lifetime to enjoy your favorite activities, but a small time to raise children. When we lived in Mulvane, they started a new girls softball program and I volunteered to be a coach. Now to do the coaching, I had to go to work on the newspaper at 5:30 a.m. so I could get things done in time for early evening games. Looking back, I remember lots of good times coaching and I really didn't miss the sleep.
I will admit that I am proud of our daughters — they are all college graduates, happily married, have wonderful families and give back to their communities. One of the many reasons is that they adapted to moving and changing schools. They made friends, were outstanding students and took part in activities. Between 1970 and 1979, they attended school in Kansas City, Kan., Mulvane, Carrollton, Mo., and in the case of the two youngest, Bonner Springs. I'm so proud of the way they accepted the trauma of readjusting to new locations until we found the perfect town — Bonner Springs.
One of the neatest parts of being a parent was we were able to work with our children on the newspaper. Actually, it made our family closer and our kids never had to look for summer jobs. Besides that, they were able to earn their spending money and learn some job skills.
Yes, it is easy to see that both Jean and I are proud parents. Now we have passed into that second realm of family joy — being grandparents. In some ways, being a grandfather or grandmother is even more fun.
Thinking about the little girl, I can't help but wonder about all the changes in the world she will live to see. If you think about the changes that have taken place in the lifetime of my daughters, it has to be mind-boggling. Since they have been born, we have seen man walk on the moon, almost instant communications, huge changes and improvements in health care, better and faster transportation and revisions in social mores, the end of the Cold War, and the terror of 9/11. The world is a far different place than when they entered life. Sadly, there have been numerous wars, as well as a national crime rate that is way too high.
My guess is that this new arrival will live to be more than 100 years old. In fact, in 1937 when I was born, life expectancy was about 60 years. Now it is in the upper 70s and with new medical techniques and knowledge, there is no reason that people won't live to be over 100. We now know more about proper nutrition, exercise and good health practices. I believe tobacco will be a thing of the past in her lifetime. I think this will give people a longer and healthier life and there will be a time when 70 years old is middle-aged.
In my lifetime, there have been many changes in attitude toward race and religion. I sincerely hope this young lady will live in a world where people are accepted regardless of their race or religion. I hope in her time the only criteria used is the character and intelligence of people and their ability to work and get along with others.
But, my most fervent hope is that hers is a world without violence. It would be wonderful if crime were a thing of the past. No, I know that will never happen. But maybe if we eliminate poverty, crime will diminish. Certainly it would be wonderful if war was just something that is read about in history class and nations solved their problems through negotiations, not violence.
I guess you can tell that I'm optimistic about the future of the world. I really think that, slowly but surely, our world will continue to progress and the quality of life will improve. The only obstruction to a better future is human nature. If we can begin to think universally and to work globally, there is no limit to how far we can progress.
I believe the new generations will mold an even better world. And I hope this little girl provides as much joy to her parents as our daughters have given us.