There were moments during Bonner Springs' Class 5A state playoff first-round game when the Braves showed flashes of excellence and glimpses of the future.
Photo Gallery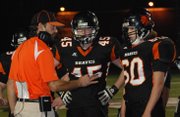 All too often, however, there were flashes of Gardner-Edgerton tailback Traevohn Wrench streaking down the sideline to the end zone for touchdowns.
Yes, the youth-laden Braves had some memorable moments, but a Blazers squad accustomed to postseason success asserted its will early and handed Bonner Springs a 76-40 loss Friday night at David Jaynes Stadium.
Wrench, a sophomore, finished with GEHS records for 456 yards rushing and seven touchdowns on just 24 carries.
"He's a good player," BSHS coach Lucas Aslin said of Wrench. "We didn't play well defensively. We didn't play well. I've got to watch the tape, but I was very disappointed with the way they came out and played. He's a good back (but) we shouldn't give up that many yards to a guy like that. We looked like we weren't even out there the first half, I mean he wasn't even touched a couple times.
"I'm very disappointed with how they came out and played. Offensively I thought they played well though. We battled and played well offensively. We just don't handle power running teams very well, obviously."
The Blazers flexed their muscles just 73 seconds into the game when — after forcing a Bonner Springs three-and-out — J.J. Jackson's punt struck the back of his blockers and was scooped up by Justin Long who raced 40 yards to the end zone for a touchdown. Chase Lee's extra point try sailed wide, but GEHS led 6-0.
The Braves answered with a 16-play, 71-yard drive to the Blazers' 9-yard line, but Nate Mitchell's 26-yard field goal try missed to the right. Gardner-Edgerton promptly answered with a seven-play, 80-yard drive that was capped by a 3-yard touchdown run by Wrench.
Bonner Springs responded with a nine-play, 80-yard drive. Joseph Dooley had catches for 14 and 11 yards during the drive, and Jordan Jackson made a 27-yard run before capping the drive with a 1-yard run on a rollout to the left. Mitchell's extra point pulled the Braves within 14-7 with 1:21 left in the opening quarter.
Gardner-Edgerton needed two plays to score again, first a 7-yard pass from Jared Hobby to Drake Sparks and then a 75-yard run by Wrench for a touchdown that gave the Blazers a 21-7 lead in the closing seconds of the first quarter.
Gardner-Edgerton's Marcus Williams scored on a 51-yard catch-and-run from Hobby, and Wrench scored on runs of 53, 6 and 51 yards in the second quarter as the Blazers' lead grew to 55-7 with 4:37 to go.
The Braves finished the quarter strong, however. A 19-yard run by J.J. Jackson, a 33-yard reception by Dooley and a 2-yard J.J. Jackson touchdown run pulled BSHS within 55-14 with 2:06 left in the quarter.
Wrench then fumbled and Jared Knernschield recovered it, setting up a final drive for the Braves. A 13-yard catch by Dooley and a 23-yard reception by Jonathan Blackwell covered most of the distance before Jordan Jackson connected with Stevie Williams in the right corner of the end zone for a 27-yard touchdown with 21 seconds to go in the quarter. The extra point try missed, but the Braves were within 55-20 at halftime.
Wrench resumed collecting touchdowns when he scored on a 28-yard run just 32 seconds into the third quarter.
The Braves answered quickly with a 55-yard touchdown pass from Jordan Jackson to Stevie Williams.
Wrench scored his final touchdown of the night on a 23-yard run with 4:25 to go in the third quarter. Two plays later, Matt Plank intercepted a Jordan Jackson Pass. That set up a 15-yard touchdown pass from Hobby to Marshall Wade and gave GEHS a 76-26 lead with 3:32 to go in the third quarter.
The rest of the game was played with a continuous clock.
Bonner Springs scored twice in the fourth quarter. Jordan Jackson connected with J.J. Jackson on a screen pass that went for a 77-yard touchdown. J.J. Jackson later scored on a 1-yard run.
Bonner Springs concludes the season with a 6-4 record. Gardner-Edgerton (7-3) advances to play Shawnee Heights (5-5) in the second round of the playoffs. Heights advanced with a 15-7 victory against Mill Valley.