Hundreds pack
BLHS

gym for chance to see live wolves
Photo Gallery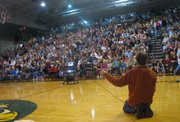 Wolves at Basehor-Linwood High School
During a program at Basehor-Linwood High School on Wednesday, visitors got a chance to see three live wolves up close. The founders of Mission: Wolf, a Colorado wolf sanctuary, gave an educational presentation and then brought out their three "wolf ambassadors," Zeab, Magpie and Abraham. The program was sponsored by Basehor Community Library.
Wyatt Powell had a simple reason for wanting to come to Basehor Community Library's Mission: Wolf show at Basehor-Linwood High School on Wednesday night.
"I got to see wolves," said Wyatt, a Glenwood Ridge Elementary School third-grader.
Nine-year-old Wyatt, who said wolves were in fact his favorite animal, wasn't alone in his desire to see them Wednesday. A pack of hundreds filled the BLHS gym for an educational program that gave attendees a chance to get close enough to touch three wolves.
Library organizers estimated the crowd at between 700 and 800 people, many of whom were families with children. Adult services librarian Laura Carroll said she'd expected maybe 200.
"People like wolves," Carroll said. "People like wild animals."
The wolves came courtesy of Mission: Wolf, a Colorado sanctuary for wolves and wolf-dog mixes that grew up in captivity. The event Wednesday was the last stop for Mission: Wolf founder Kent Weber and his wife Tracy Brooks after a six-week tour of the East Coast, Weber said. The two tour along with their "wolf ambassadors," Weber said, to spread the message that wolves are not to be feared — but they're not to be kept as pets, either.
In the United States today, Weber said, about 250,000 wolves or part-wolves live in captivity, compared with just 5,000 that live in the wild.
"Most of you in this room, you'll never see a wolf in the wild," Weber said.
The wolves at Mission: Wolf have always been captive, so they don't know how to hunt for food, Weber said. In the wild, they would likely starve or be killed after approaching a human, he said. The reserve has 38 wolves and wolf-dog crosses right now.
The three wolves that Weber and Brooks brought Wednesday were Zeab, an 18-month-old Canadian gray wolf (though his coat was closer to black) who came from a zoo; Magpie, a 9-year-old female, gray in color, who was illegally bred for a movie project; and Abraham, a 5-year-old wolf-dog mix who was found wandering the streets of Salt Lake City.
After an educational program, Weber asked the crowd to gather in a circle around the gym floor, and he and Brooks brought the three wolves out into the middle. After allowing them to play in the middle of the circle for a bit, they brought them around the edge, where audience members could get close. A lucky few got to touch them or even perform what Weber called a wolf's version of a handshake: a nose-to-nose touch.
Carroll said the quiet in the gym while the wolves were out showed that the audience was captivated by the animals.
"Kids in this area understand wildlife, and they like it," Carroll said.
Wyatt Powell said he got within an arm's length of the wolves. They were less wild than he'd imagined, he said, but it was still "awesome" to see them.
Joseph Toland, a kindergartner at Bonner Springs Elementary School, watched from the lower rows of the bleachers nearby. Joseph, 5, said the wolves were even bigger than he'd imagined.
"I really like them a lot," Joseph said, "because they're really big."