New recall petition targets Basehor mayor; group alleges misuse of public funds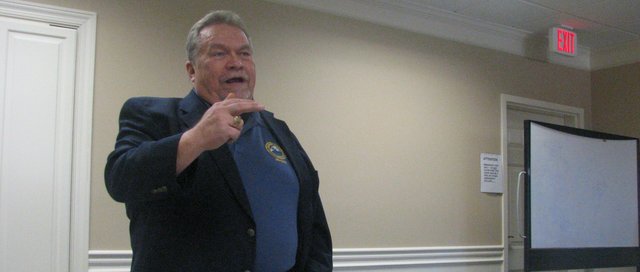 Related document
Related document
Another recall petition is hitting the streets of Basehor, this one calling to remove Basehor Mayor Terry Hill from office.
The Basehor residents who created the petition allege that Hill committed misuse of public funds by using a city credit card to purchase more than $400 worth of goods that were delivered to his home, revising former city administrator Mark Loughry's contract to provide additional benefits and authorizing a $50,000 severance check to Loughry without approval from the Basehor City Council.
In a phone interview with the Sentinel on Tuesday, Hill denied any wrongdoing.
"All of those things fall under what I call exercising my responsibility to the city," said Hill, who was elected mayor in 2009 after two years on the city council.
Leavenworth County Attorney Todd Thompson late last week approved the petition to be circulated, County Clerk Janet Klasinski said Monday.
A group of three Basehor residents — Marilyn Townsend, Elaine Bundy and Bob Moore — submitted the proposed petition to the county Wednesday, Nov. 7, Klasinski said.
The petition to recall Hill follows an effort to recall Basehor City Council members Dennis Mertz and Iris Dysart, which was launched late last month by a different group of Basehor residents.
To prompt a recall election for Hill, the petitioners will need 190 signatures from Basehor residents who support the effort, Klasinski said. They will have until early February to do so. The petitions to recall Mertz and Dysart will require 124 and 193 signatures, respectively.
Townsend, who has lived in Basehor since 2008, said she began the effort to recall Hill on her own. She met with Klasinski in September to discuss the procedures for recalling elected officials, she said, but decided against it when she learned the city would need to pay for a recall election. After she learned of the possible election to recall Mertz and Dysart, she said, she knew she could push to recall Hill with little additional cost to the city.
Townsend said she had spent "many, many hours" researching in order to present the necessary grounds to recall Hill.
"It wasn't a lark," Townsend said. "It's been a lot of time."
She said she submitted the petition because she didn't think Hill had shown enough care with taxpayers' money.
"I am a person who believes that taxpayer money should be spent wisely," Townsend said, "and people who make those decisions should think of us at all times."
QUESTIONING PURCHASES
The recall petition accuses Hill of misuse of public funds, saying he purchased a $157 coffee maker and a $268 photo scanner with his city credit card, in violation of the city's purchasing policy at that time, and had them delivered to his home in Basehor.
Townsend said she learned of those purchases through a request for purchase records from Hill's city credit card.
Hill told the Sentinel that the scanner and coffee maker were for use in his office at Basehor City Hall. He had them sent to his home, he said, because his personal account on Amazon.com included a membership to the site's Amazon Prime program, which allowed for discounts on shipping.
"They are, and have always been, in my mayor office," Hill said.
He said he had done the same with other goods used for city business, including parts for his city-issued car.
The recall petition alleges that Hill did not have the authority to make any purchases with his city card between Sept. 21, 2009, and June 21, 2010, when a previous city purchasing policy was in effect. That policy did not specifically grant the mayor any purchasing authority; the current policy, adopted in June 2010, gives the mayor the power to make purchases worth $500 or less.
Hill said he was not aware at the time he made those purchases that the city's policy did not give him any buying authority, which he said was the result of an inadvertent error. The council corrected that error by adopting the new policy in June, he said.
"It really didn't seem to be an issue with anybody," Hill said.
Kim Winn, deputy director of the League of Kansas Municipalities, said that violating a local purchasing policy would not likely qualify as misuse of public funds, though using city funds to purchase goods for personal use would. Under state law, misuse of public funds in an amount of less than $1,000 is a class A misdemeanor.
Also supporting its claims of misuse of public funds, the recall petition says Hill used his city card to purchase food multiple times near his office in Fairway, where he works as an information technology director.
Hill said he often had lunch with city council members, job candidates, developers and other people in connection with his duties as mayor, and such lunches occasionally took place near his office in Johnson County if he did not have time to drive closer to Basehor during his lunchtime. He never used his city card just to buy food for himself, he said.
OTHER ACCUSATIONS
The recall petition also accused Hill of misuse of public funds in revising Loughry's contract to provide for full payment of his family's health insurance premiums, and in authorizing a severance payment for Loughry more than $50,000 without a city council vote, in early October.
In past interviews with the Sentinel, Hill has said that his handwritten addendum to Loughry's contract was not a revision but a clarification reflecting the original intent of the city council, and that he was obligated by Loughry's contract to authorize his severance payment in time for the city's next pay period.
On Tuesday, Hill told the Sentinel that city attorney Shannon Marcano had told him the severance check did not require council approval because the council had already approved Loughry's contract, which spelled out his severance package. He said withholding the severance — which the council voted to do before the payment went through — could put the city at risk for a lawsuit.
Townsend said she did not buy that argument.
"The contract was altered," she said, "so it was no longer valid, as far as I'm concerned."
The petition also alleges that part of Loughry's severance paid him for vacation days that he had already used. Townsend said someone with knowledge of the situation had told her that had happened, but she could not remember whom.
Hill said that claim was not true, and he had directed city staff to pay Loughry for vacation time that he had accrued but not used.
The other accusation in the petition is that Hill fell short in a duty to attend all city council meetings, citing an instance in April 2010 when Hill ripped off his shirt and left a meeting after the council voted against his appointment for the city clerk position.
Hill said he remembered that he threw his City of Basehor shirt on the floor and "left the meeting in disgust," but he apologized for his outburst at the next council meeting.
Townsend said she had compiled a list of about 10 city council regular meetings, work sessions and special meetings from which Hill had been absent since becoming mayor, during 2009, 2010 and 2011.
The petition cited a state law that says the mayor "shall preside at all meetings of the city council."
But Winn, of the League of Kansas Municipalities, said that law did not serve as a requirement for a mayor; rather, it grants authority to the mayor. Missing a handful of city council meetings would not qualify as grounds for recall, Winn said. State law even allows for mayors to miss meetings, she said, by creating the position of city council president to fill in for the mayor in the case of absence.
WHAT NOW?
Should more than one of the three Basehor recall petitions attract enough signatures for an election, Klasinski said she hoped to have a single election for Basehor residents with multiple recalls on the ballot. The recall of each official would go to a majority vote.
"I'd like to save the city a little bit of money," Klasinski said.
The city of Basehor will foot the bill for any recall election, Klasinski said. She guessed that the cost of an election would be between $3,500 and $4,500, depending on how many officials appear on the ballot.
According to state law, if the mayor were recalled, he would be replaced by the city council president. Mertz, the current council president, is also the subject of a recall petition.
Winn said that if the mayor and council president were removed at the same time, the remaining members of the council would appoint one of themselves as council president, and that person would immediately become mayor. The new mayor, then, would appoint new council members to fill any vacancies, and the council would vote to approve those appointments.
Townsend said the recall group had already begun to collect signatures for the petition by going door-to-door. Trudy Stonacek, a member of the group attempting to recall Mertz and Dysart, said her committee had begun gathering signatures, as well.