Basehor-Linwood group reaches farther than ever in helping needy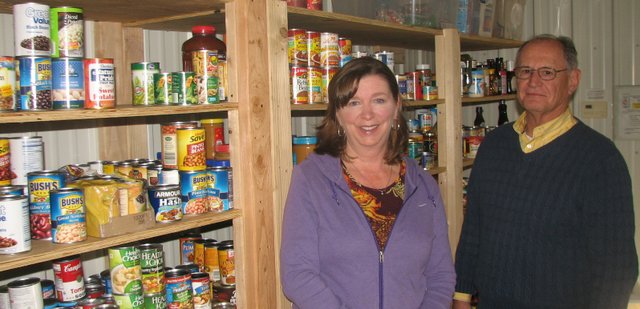 Every year, Jeff Bohndorf says, he's struck by how many families in the Basehor-Linwood area ask for help around the holidays.
"It's always surprising, each time, how much need is out there," said Bohndorf, who is on the board of directors for Basehor-Linwood Assistance Services.
That need has consistently increased in recent years, BLAS organizers say. But, with the help of others, BLAS is growing to help meet it.
The nonprofit group's Christmastime Adopt-a-Family program, which is starting up right now for the 2011 season, could serve as many as 40 families this year, said Glenda Briscoe, chairwoman of the BLAS board of directors. That number has increased by about five in each of the past three or four years.
And as more families ask for assistance, BLAS (which organizers pronounce "blaze") is expanding into other ways to help people in need in the area, in addition to the longstanding Adopt-a-Family program around the holidays. Earlier this fall, the group combined with Basehor United Methodist Church to open a food pantry, open 6 to 8 p.m. Thursdays, at the church, 18660 158th St. And a backpack food program that began as a trial at Linwood Elementary School in 2010 has expanded to serve 50 students, spread among all three of the Basehor-Linwood elementary schools plus Basehor Intermediate School.
"We kind of want to move beyond just having the one thing, once a year," Briscoe said. "We wanted something else."
Pat Matthews, another BLAS board member, said the group cooperated with the Methodist church to open the food pantry about two months ago, after the First Baptist Church of Basehor closed its pantry recently.
"The first week, one person came," Matthews said. "The next week, two people came. The next week, four. The numbers are growing."
The pantry is stocked by donations, including from the annual mail carriers' food drive, and more are always welcome, Matthews said.
Though BLAS' other programs serve only people who live within the Basehor-Linwood school district, the food pantry has no residence requirement.
"We don't ask any questions," Briscoe said.
BLAS may be expanding its horizons, but its staple Adopt-a-Family program is bigger than ever. Matthews said the group was receiving more requests from families in need of food, clothes and gifts around Christmas each year, as people have dealt with a sluggish economy and awareness of the program has spread.
The group is looking right now for more families in need, as well as people, groups or businesses that would like to adopt one or more families for the season.
Bohndorf said he had gone to a number of churches and businesses to tell them about the program and ask for their support, and many of them were interested when they heard it would help people close to home.
"Several people have specifically asked if it's staying in the community," Bohndorf said.
Each family receives a supply of food from drives at each of the Basehor-Linwood schools, as well as clothes and gifts picked out by whoever adopts them.
Anyone who needs help or who would like to help with the Adopt-a-Family program should contact BLAS by Dec. 1 by calling (913) 724-2077 or sending email to BLAS@sunflower.com.
Briscoe said the group was always looking for more board members to help it continue to grow, as well. Excitement is spreading across the current group of volunteers, she said.
"We've been able to kind of take off and take on some new projects, kind of with a leap of faith," Briscoe said. "And so far, so good."