New cancer procedure gives new lease on life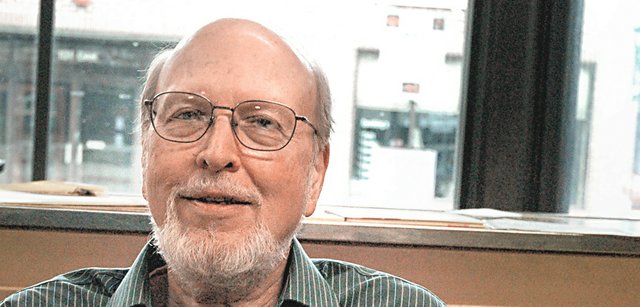 It's all about setting priorities.
That's one lesson John Walker of Bonner Springs has learned through his battle with prostate cancer.
"I think I have a new vision of life, the length of life; that our time is limited here on Earth, and it's important for us to make priorities every day," said Walker, a former pastor. "And those change as we go along in life."
Walker, who is 72, was taken completely by surprise when he was diagnosed with high-risk, aggressive prostate cancer in June — serious enough to have a score of 8 (out of a high score of 10) on the Gleason scale, which is used to measure the severity level of prostate cancer. He had been undergoing annual, routine prostate cancer exams since age 40, and had always tested negative. He figured the results of this year's exam would be no different.
The diagnosis took his doctor by surprise, as well, Walker said.
"He thought that there wasn't any way I could have cancer because the (prostate-specific antigen test) was .08," too low to be indicative of cancer, he said. The test determines the number of proteins produced by the prostate, thereby determining whether cancer is present.
Walker's diagnosis was later confirmed, however, through further testing.
He says he was, naturally, initially afraid, and one of his first thoughts was, "What do I do now?"
His answer was to do "rapid, intensive research," as he said, on what his options were: surgery, radiation, implanted radiation beads or hormone therapy. He said, often, the research itself offered more questions than answers.
"I consulted three different doctors," Walker said during a talk about his experience Monday, Nov. 14, to the Bonner Springs Rotary Club. "Each leaned toward the bias of their own specialty, which created more confusion in making my decision."
Finally, Walker settled on a type of minimally invasive robotic surgery that could be done at the University of Kansas Hospital in Kansas City, Kan. The surgery was scheduled for Aug. 16.
A change of course
Walker also began preparing for the end. He said given his age and health problems, he "was not at all sure I would make it through the surgery."
"I began pondering writing letters to my kids and grandkids to leave some kind of personal written legacy," Walker said. "And (my wife) Kathy and I went to see Jeff Harrington (of Alden-Harrington Funeral Home) to being making end-of-life preparations."
But the end wasn't coming just yet — and neither was Walker's scheduled surgery. In late July, Walker's wife approached him with another alternative she had heard of through a conversation with a friend. It was a type of advanced treatment, known as proton beam radiation, Walker could undergo in Oklahoma City. In proton beam radiation, cancer cells are treated with beams of protons that more precisely target the areas needing to be treated than other forms of radiation therapy. Subsequently, there is less damage to nearby organs. There are fewer side effects, as well.
After more research, Walker decided to take the leap. He and his wife moved in early August to an active retirement center in Oklahoma City so that he could receive daily proton beam radiation treatments at the ProCure Proton Therapy Center — one of only nine radiation centers in the United States that offers the recently-developed treatment. Though proton beam radiation has been approved by the U.S. Food and Drug Administration, Walker found through his research that the main reason behind the limited number of centers offering the treatment is the upfront cost of installing the equipment necessary to provide it: about $60 million to $70 million.
In treatment
Daily treatments at the ProCure center had Walker lying in a body cast on a table each day while protons were painlessly beamed into his body with a giant cyclotron, or proton accelerator, weighing about 220 tons. Walker also had to drink 24 ounces of water 45 minutes before each day's treatment without urinating.
"It's hard to hold it when you've got prostate problems already," he said.
Whereas with traditional radiation therapy, Walker might have had severe side effects, including nausea, he said his side effects throughout the entire treatment were minimal — mostly just some fatigue and frequency of urination. Walker was able to get involved in the community, attending concerts, plays and other events with friends and family who lived in the area. He said he also made connections with other patients at the center.
"We would stick around and support other patients and their families for a while. We'd sit around the table and talk and drink coffee and if somebody was down, try to lift them up. And we provided transportation for a lady that didn't have it that was getting treated for brain cancer," Walker said. "So, you know, you help each other out is what happens, and you celebrate (successes)."
At the end of the treatment, Walker even got a diploma and gave a "graduation" speech.
In recovery
Walker returned home the second week of October, and he says ever since he has been turning his life around when it comes to taking care of himself. He exercises regularly and has become a vegetarian, eating only fish occasionally. He also has omitted sugar and bad fats from his diet.
"All kinds of fruits and vegetables, soy and tofu and beans. That's basically what I eat," he said.
Still, Walker isn't out of the woods. While the radiation treatment killed off the cancer cells in his prostate, he will still have to return to Oklahoma City every three months for the foreseeable future to undergo tests to determine any return or spread of the cancer. While preliminary tests prior to Walker's treatment showed that his cancer hadn't yet spread to other organs, his aggressive form of cancer increases the risk that it might have and just hadn't yet been detected, he said.
"It's basically watchful waiting and doing the disciplines … prevention is really what it's about now. Trying to prevent the spread of the cancer with whatever means I can," Walker said, which is why he is taking his health in his own hands through eating right and exercising. "I plan to stick with this and think I can, and it's worth it."