Trading hoops for volleyball no problem for Delladio at
BU
Former
BSHS

 star adjusted quickly, made big impact for Wildcats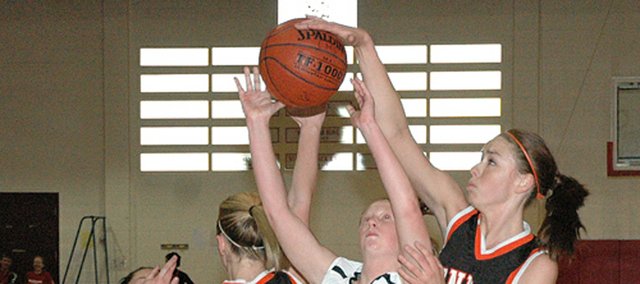 When Christina Delladio graduated from Bonner Springs High School she hoped to continue her basketball career just down the road in Baldwin.
Delladio stayed on the hardwood, but she did not stick with basketball. She made the decision to change sports and join the Baker volleyball team after her freshman year.
It turned out to be a smart move.
Her senior season ended Nov. 12 against Mid-America Nazarene, closing out a career where Delladio excelled through diligent work and determination.
When she decided to switch sports after her freshman year, she began working out for 90 minutes to two hours before practice because she was so raw as a college volleyball player.
All of that hard work paid off as Delladio finished the season ranked second in the NAIA with 173 blocks this year. Her blocks per game average also ranked sixth in the country.
"I just get this mental thing in my head when I'm at the net waiting for the ball to go into play where I'm like ' I'm going to block this ball.' And usually I work my butt off to block the ball," Delladio said.
Delladio was also the team's leader with 338 kills in 37 matches this season.
Baker (26-11) tallied an undefeated regular-season record in the Heart of America Conference thanks in part to Delladio's contributions, but she said the success came through a collective group effort.
"The best part about playing volleyball is all the people on my team," Delladio said. "We all meshed so well together."
Having exceptional team chemistry and selflessness helped the Wildcats to another successful volleyball year.
"We weren't keyed in on one particular player with everyone," Delladio said. "Most of our games we won we didn't ever have one person that was necessarily scoring."
The Wildcats entered the Heart of America Conference Tournament as the No.1 seed and made it all the way to championship match.
Baker defeated Avila and Graceland University in the first two rounds of the HAAC tournament.
However, Baker fell to Mid-America Nazarene in the championship match in straight sets. The Pioneers defeated the Wildcats 25-18, 33-31, 25-20 to snap the Wildcats' winning streak at 15 matches.
Baker had defeated Mid America Nazarene during the regular season on Oct. 18.

"We both we're playing really hard," Delladio said. "We gave it our all and Mid-America just had more to give than we did. It was a really, really tough loss."
Although this was Delladio's senior year of eligibility, she already has graduated from Baker with a degree in physical education.
She is currently working as graduate assistant at Baker while pursuing her master's degree in liberal arts with an emphasis on education.