Edwardsville council looking to 'revitalize' K-32 corridor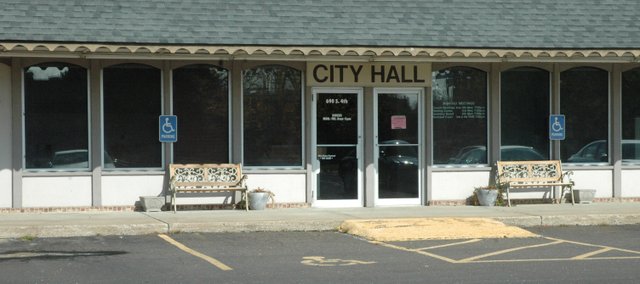 Officials with the city of Edwardsville are hoping to lure a little more development to the Kansas Highway 32 corridor. And soon, they may have an incentive to help bring that development about.
The Edwardsville City Council conducted a public hearing Monday regarding a new Neighborhood Revitalization Plan. Under the plan, new businesses and single-family residential homes moving in to areas designated by the plan — along K-32 roughly from 94th Street to the western limits of the city — would be eligible for significant tax abatements. Current business and homeowners wishing to make major improvements to their existing structures also would be eligible for tax abatements.
Under the plan's terms, homeowners who make at least $5,000-worth of improvements to their existing homes would be eligible for a 95 percent property tax abatement for 10 years on the added value to the home. Homeowners building new homes with a minimum investment of $50,000 would be eligible for a 50 percent property tax abatement for five years.
For business owners, a minimum of $25,000-worth of improvements to existing structures would make them eligible for a 50 percent, five-year property tax abatement on the value of the improvements. The same 5-year, 50 percent tax abatement terms would apply for new commercial structures being developed, though the minimum investment would have to be $250,000.
"I think it would give us a tool to use to attract small retail business to the area," City Administrator Michael Webb said during the public hearing.
If approved by the council, the plan would go into effect Jan. 1, 2012, and expire Dec. 31, 2021.
This would be the second Neighborhood Revitalization Plan adopted by the city. The first, approved in 2009, covers the area of Edwardsville roughly bounded by Third and Fourth streets on the west, the Kansas River on the south, Ninth Street on the east and the Union Pacific Railroad on the north. Both plans offer similar terms, though the original plan offers a longer, 10-year, 50 percent tax abatement on new commercial structures or the rehabilitation of existing commercial structures.
Webb said the city had yet to receive an application from a homeowner or commercial developer wishing to take advantage of the first Neighborhood Revitalization Plan. Most likely, he said, that was largely a result of people not being aware the option was available to them.
Council members seemed to be in favor of the idea, which will go to a vote at their Dec. 12 meeting. Council member Chuck Adams, however, asked that the boundaries of the plan be adjusted slightly to include five more lots on the east end of the city just past 94th Street.
"So there's nobody left out," he said, noting that, with the slight adjustment, all developable land along K-32 within the city would be eligible.
The only public comment made during the hearing was by William "Heinz" Rodgers, Edwardsville resident and former Edwardsville mayor. Rodgers asked whether turning the K-32 corridor into an area identified as a Neighborhood Revitalization Plan would come into conflict in any way with the area's zoning restrictions. The K-32 corridor was zoned in 2006 as an overlay district, meaning residential and commercial development must adhere to what Webb said was a "higher level of standards" than might be imposed through regular zoning restrictions in such areas as landscaping, signage and what building materials are used.
Webb said any zoning restrictions would still apply.
Webb also raised the question of imposing an application fee. He noted application fees are imposed on industrial revenue bonds and tax increment financing requests. Council members vetoed the idea, however, especially since Webb said the work involved on the part of city staff to process this type of application would be fairly minimal.
"We're trying to sell that to people to do the process" of applying for the Neighborhood Revitalization Plan, council member Mark Bishop said. "I don't want to burden them any further."
Council member John Eickhoff was absent from the meeting.
In other action Monday, the council:
• Unanimously approved, with council member Craig Crider abstaining, minutes of the Nov. 14 meeting. Crider was absent from that meeting.
• Unanimously approved payment of bills totaling $130,491.