Leadership not lacking for Bonner Springs boys as 2011-12 basketball season gets under way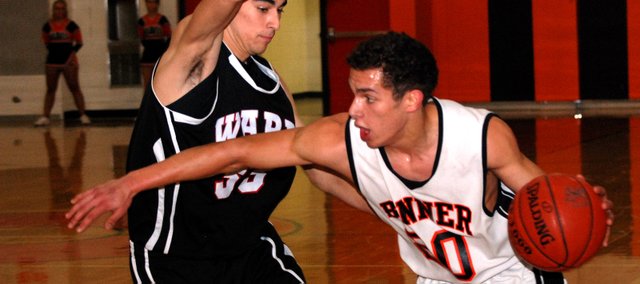 If there's one attribute the Bonner Springs boys basketball team won't be lacking this season, it's senior leadership.
A whopping eight seniors occupy a bulk of the Braves' roster, providing plenty of experience for a team looking to build on a 15-6 record and Class 4A substate semifinal appearance a year ago.
Of those returners, none are bigger than the Braves' smallest player — senior B.J. Watson. The 5-foot-8 point guard is elusive off the dribble and possesses a smooth stroke from the perimeter.
"B.J. Watson is our point guard and coach on the floor," BSHS coach Andy Price said.
Watson is hardly the lone leader, however. Senior guard J.J. Jackson is a lock-down defender who has started since his freshman year, and senior forwards Stevie Williams (6-2) and Brett Steuart (6-4) are strong, athletic scorers and rebounders on the interior.
Senior point guard Jourdaine Smallwood, senior forward Joseph Dooley and sophomore guard Jordan Jackson all played significant minutes last year and will contend for starting spots.
In addition, a trio of newcomers — senior guard Ivory Elijah, senior guard Daemon Franklin and senior center Tyler Howell — should provide valuable depth.
Experience will be key for the Braves as they take on a difficult schedule.
"We have a unique schedule in that we start out the season with a bunch of road games," Price said.
BSHS opens the season at 7:30 p.m. Friday at home against Piper, but then the Braves will be on the road for more than a month with a five-game road swing that spans winter break.
"February features some huge home games," Price noted, pointing to the Feb. 7 showdown with Lansing and the Feb. 10 meeting against Mill Valley.
Among the goals for the Braves this season are a top-three finish in the Kaw Valley League. That won't be easy in a season where the league is expected to be improved from top to bottom.
"Basehor and Lansing will be extremely good teams this year with a lot of depth and a good combination of post players and solid guards," Price said. "Mill Valley is always well coached, and they have some new players that will make a difference right away. Piper, Bishop Ward, Tonganoxie and Turner will all be much better this season, making our league very competitive."
Other goals include winning a third-consecutive championship in the Baldwin Invitational Tournament and to vie for the substate championship and a state tournament berth.
While the Braves will be on the road for most of the first half of the season, they balance it out by playing five of their final six regular-season games at home. Ideally, the Braves would use that stretch to build momentum heading into the postseason.
"We are going to have to peak at the right time," Price said. "We are going to have to play much bigger than we are. We are going to have to figure out how to defend the post and rebound against teams with bigger players."
FOLLOW THE BRAVES ONLINE
In addition to coverage by The Chieftain, the Braves provide numerous outlets to keep track of the team online. The official team website is usd204.net/boysbasketball, and fans can track the team through social networking at facebook.com/bravesbasketball and twitter.com/bshsbasketball.