Jazz singer inspires math learning at Bonner library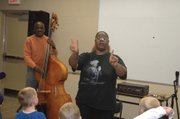 "The First Lady of Song" had no idea her music and legendary use of scat singing would later be used to help youths at Bonner Springs City Library learn how to add and subtract.
But Ella Fitzgerald had a clear presence in the room Thursday during "Ella, Scat & Math," a program developed by Kansas City Young Audiences that teaches beginning math to youths ages 3-6 using jazz music and scatting as inspiration.
Scatting, instructor Lisa Henry told the youths in attendance, is "when we use sounds and syllables instead of words" in a song.
Henry began the program by giving a few brief comments about Fitzgerald and also playing one of Fitzgerald's most well-known recordings, "Take the A Train," in which she scatted throughout. Then the math began. Henry had the youths do what she called "mathercizing" — swinging their hips in time to bass accompaniment played by Tyrone Clark — while she called out math problems similar to the following:
"I got five fingers folks. Take away one?"
When the right answer was shouted back to her, Henry said, "OK, hit it" to Clark, letting him know to keep on playing. When the wrong answer was shouted out, as it often was, Henry had everyone in the room say "wah, wah, wah," and she worked with the youths further until they got the answer right.
Henry also had the youths make the numbers 1-9 out of their body positions.
Before moving into the scatting portion of the program, Henry assured the young attendees that "scat is nothing to be afraid of." Then she did some simple scatting herself to demonstrate how it worked.
"Shoo-bi-doop, shoo-bi-doop, shoo-bi-doo-bop," Henry sang.
Henry several times had the youths demonstrate with their fingers and call out the number of times she used the scat syllable "shoop." She ended the program by telling the young attendees how well they had done and asking them to pay it forward by showing someone at home how to scat.
A longtime jazz singer and scatter from Kansas City, Mo., Henry says she's been sharing programs like "Ella, Scat & Math," that combine music with areas of learning, to libraries and schools across the country and even the globe for about 20 years. Through Kansas City Young Audiences, an organization that provides arts programming to youths throughout the Kansas City metropolitan area, she leads the "Ella, Scat & Math" program, as well as two other programs, "I Dig Jazz," and "Swingin' the History," that introduce audiences to influential jazz musicians like Charlie Parker and Louis Armstrong.
Broken down, music is fundamentally made up of numbers in terms of a song or composition's time signature, or number of beats per measure. That's why, Henry says, music is a great source to use when teaching youths about numbers and math. Anything that can get youths thinking about counting will be helpful in their math learning, and "scat lends itself to that," Henry said.
Plus, she said, it's just fun to do.
"There's just a fun element to scat that people are not used to doing," Henry said, noting that the enjoyment of scat helps the youths remember the lessons she's trying to teach. They think to themselves, "OK, this is pretty fun. Shoop-shoop-shoop. Yeah, that's three."
"Ella, Scat & Math" was one of the library's Imagination Destination programs, funded through the $11,500 raised from the Jazz on the Lake fundraiser in February. The money will go to fund arts and science programming for youths for the next two years.