Halloween competition pits 'Monday Night Football' vs. trick-or-treaters
What is the biggest, most important event happening in the metro area this next week?
I would guess that you would receive a different answer depending on the age of the person you asked. If you talk to a youngster, I'm sure you would be told "Halloween." To the very young, it is a time to dress in a costume and go door-to-door gathering enough candy to provide a weeklong sugar high. Older teenagers might give you the same response, only they might have mischief on their mind.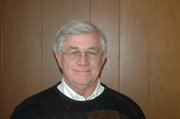 On the other hand, there will be a lot of adults and die-hard fans who will disagree and point out that the really big event on Oct. 31 is "Monday Night Football" at Arrowhead Stadium featuring the Kansas City Chiefs and the San Diego Chargers. Since kickoff is set for 7:30 p.m., my guess is there will be a lot of early trick-or-treating. And I'm sure there will be fans who are irritated when they have to leave the TV set to answer the door and distribute treats. Hopefully no one will be called to the door at the exact moment when Matt Cassel hits Dwayne Bowe with a long scoring pass.
"Monday Night Football" has become an important part of fall for more than four decades. I will admit that with all the games now on TV, it has lost some of its luster. But when it's the local team, it is still a big event. There were some attempts at prime time football in the early 1950s on the defunct Dumont network. But in the late '50s, pro football gained popularity and it was the perfect game for television. "Monday Night Football," as we know it today, started in 1970 and was an immediate success. It wasn't long before meetings were moved so they wouldn't interfere with the game.
I will admit that I always felt cheated since I always had to work on Mondays and couldn't follow the game. In fact, when I retired I told folks that I could become a "Monday Night fanatic."
Last year the Chiefs made an appearance on "Monday Night Football" and upset San Diego, 21-14, to set the stage for a winning season. The Chiefs' first Monday win was on Sept. 28, 1970, when they defeated Baltimore, 44-24. Despite the Chiefs' poor performance this past decade, they have a 20-15 record in Monday night games.
I have been in the press box for Monday games and I can tell you there is an electric atmosphere. The fans are louder and maybe a bit more unruly. Probably the biggest Monday mess came when someone decided to have a DUI check point and backed up traffic for a couple of hours with little results other than angering fans.
As far as I'm concerned, the musical themes are great. And while I understand why Hank Williams Jr. had to go, I miss the "Are You Ready for Some Football" opening song and I hope a suitable substitute is found.
While trick-or-treating is a major American event, the National Confectioners Association conducted a survey that showed that 80 percent of adults planned to give out treats and 93 percent of children planned to participate. Between candy and costume sales, it is a multibillion dollar business and important for retailers waiting for the Christmas sales. I find it hard to believe but they're even marketing costumes for your pet.
I admit that I rather enjoying seeing the little kids come to the door. However, I have a problem with older children being out. I really believe teenagers should not be trick-or-treating.
I will admit that I'm looking forward to Monday and, hopefully, a Chiefs victory. Certainly the national exposure is important to the metro area. I plan on keeping an eye on the TV set while hobbling to the door to see small goblins, ghosts, etc. I hope the weather is nice and we all have a happy and safe Halloween coupled with a Chiefs victory.