DISTRICT

CHAMPS

: Braves strike fast, beat Lions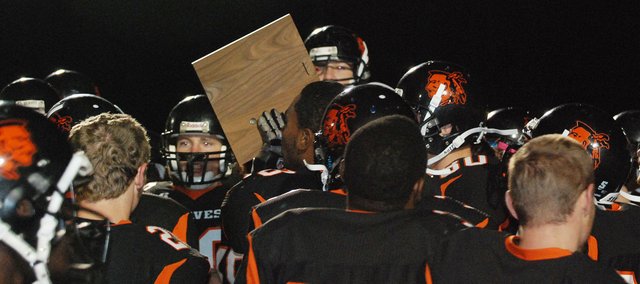 The Class 5A District 1 championship was at stake Friday night at David Jaynes Stadium, but the Bonner Springs football team looked like it was playing for a state title.
Photo Gallery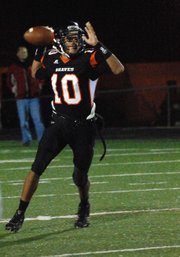 Bonner Springs 35, Lansing 21
No play was too unpolished to try; no risk was too great to take. The Braves pulled out all the stops, and everything they tried early worked. The result was a 35-21 quick three-touchdown lead and an eventual 35-21 victory that gave BSHS the district title and extended the Braves' winning streak to five games heading into the playoffs.
The district title was particularly significant to first-year Braves coach Lucas Aslin.
"I told the guys before the game, when I took this job I didn't know wins and losses how we were going to be. The only goal I really had was to try to be district champs … only goal I had," Aslin said. "I told those guys for the first time before the game, that's the only goal I had. And I said, 'You're one game away from it, if you start fast you can get it, and if you get district champs you're going to make the playoffs no matter how bad or good you did early (in the season)."
Just like they did a week earlier against Washington, the Braves opened the game with an electrifying series of offensive possessions and scored three touchdowns during the first 10 minutes.
On the opening drive, the Braves used a 52-yard kickoff return by Jared Knernschield to set up a short field. After two running plays by J.J. Jackson, quarterback Jordan Jackson connected with receiver Stevie Williams in the back right corner of the end zone for a 15-yard touchdown. Nate Mitchell's extra point gave Bonner Springs a 7-0 lead just 62 seconds into the game.
On Lansing's first drive, running back Nick Hughes coughed up the ball on a dive up the middle and Bonner Springs linebacker Jose Contreras recovered it. Three plays later, BSHS lined up to punt on fourth-and-21, but J.J. Jackson tucked the ball and ran 46 yards to set up first-and-goal at the 6. Two plays later he scored on a 6-yard run and gave the Braves a 14-0 lead.
Lansing's turned the ball over on downs on its next possession, and Bonner Springs answered with a 6-play, 69-yard drive that was capped by a 46-yard touchdown pass from Jordan Jackson to Williams down the middle of the field. That put BSHS ahead 21-0 with 2:00 to go in the quarter.
Williams praised Jackson's passing precision and said BSHS offensive coordinator John Hilton has infused the offense with confidence.
"His main focus was jumping on them early," Williams said. "Coach Hilton trusts (Jordan) will make good decisions, and he makes plays happen. It's great when we can move the ball like that."
Lansing needed just 69 seconds to answer with a touchdown on a 2-yard run by quarterback Joe Schneider. The extra point attempt failed, and the Lions trailed 21-6.
Lansing then attempted an onside kick, but Contreras pounced on it and gave BSHS a short field. On the final play of the quarter, Jordan Jackson threw to Joseph Dooley for a 20-yard touchdown. Mitchell's extra point gave the Braves a 28-6 lead.
Lansing went three-and-out on its first possession of the second quarter, and then Bonner Springs scored on a 63-yard bomb from Jordan Jackson to Williams who hauled in an over-the-shoulder catch in stride before sprinting to the end zone.
Lansing scored late in the second quarter on a 7-yard run by Schneider. He then threw to Decker for the 2-point conversion and pulled LHS within 35-14 at intermission.
As crisp as the Braves were in the first half, they struggled to sustain drives during the second half but were able to rely on the early cushion to sustain their advantage. They made just six first downs and reached the red zone only once in the second half as Lansing brought more pressure on defense and did a better job covering the Braves' receivers.
Still, the Lions' offense only produced one score during the final two quarters. It came on an 11-play, 66-yard drive that lasted more than four minutes and was capped by a 17-yard touchdown pass from Schneider to Cameron Decker. Schneider was hit on the play and left with an injury. Backup quarterback Jordan Sommerla was intercepted by BSHS defensive back Jonathan Blackwell on each of the Lions' next two possessions, effectively ending their comeback bid.
Bonner Springs (6-3) will play host to a Class 5A state playoff game at 7 p.m. Friday, Nov. 4.