A night to remember: Braves open season with victory against Seaman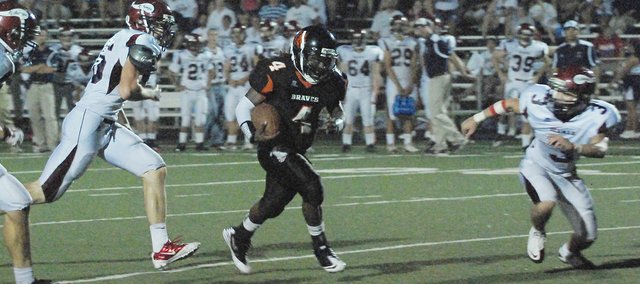 Some good, old fashioned Bonner Springs swagger was on display Friday night at David Jaynes Stadium as the Braves opened the 2011 football season — and the Lucas Aslin era — with an statement victory against Topeka Seaman.
Photo Gallery
Bonner Springs 21, Topeka Seaman 17
Bonner Springs won its season-opener under first-year coach Lucas Aslin, 21-17, on Friday, Sept. 2, 2011.
Aslin, who was hired in March to be the Braves' new coach, sported a proud smile after watching his Braves win a 21-17 thriller against a Seaman squad that thumped BSHS 42-7 in last year's opener and 51-0 in the 2009 finale.
The Braves scored with big plays, they scored with defense, they shined on special teams and they sealed the victory with quarterback sacks on two of the final four plays.
"It means a lot," Aslin said of beating a regular Class 5A state playoff team for the first victory. "We're not playing no cupcake. They're a good team. They're a good program, they play in a great conference, and they blew us out of the water last year."
But on this night the Braves simply looked better in all facets of the game.
"I thought they played great," Aslin said of his squad. "We have them a couple touchdowns early. Like I told them at halftime, every time I've given up the first touchdown on the first possession we've won every game. It's just weird because you settle down and you play. So I'm proud of the kids; they battled hard."
BSHS went three-and-out on the opening possession of the first quarter, and Seaman countered by scoring on a 38-yard run up the gut. Adam Dillon broke multiple tackles before dashing into the end zone and giving the Vikings a 7-0 lead less than two minutes into the game.
The Braves answered about four minutes later. Their second drive appeared to be destined for another three-and-out, but a 19-yard scramble by quarterback Jourdaine Smallwood on third down gave the Braves new life. Four plays later, Smallwood connected with wide receiver Stevie Williams down the right sideline for a 49-yard touchdown. Nate Mitchell's extra point tied the game with 6:19 left in the first quarter.
"It's like when you ride a bike and you fall off, you get that scratch and you just want to get back on and keep going," Smallwood said of describing the Braves' rapid response. "That's what we did."
On Seaman's second possession, a fumble by running back Justin Dolsky on the third play of the drive bounced cleanly into Bonner Springs linebacker J.J. Jackson's hands. He hopped over one Viking and darted 25 yards to the end zone. Mitchell's extra point gave the Braves a 14-7 lead with 5:15 left in the opening quarter.
After swapping empty possessions, Seaman capitalized on a fumble by Smallwood inside the 5-yard line. One play after the turnover, Seaman quarterback Ryder Chaffee scored on a 4-yard run that tied the game at 14-14 with 9:41 left in the second quarter.
The Vikings took a 17-14 lead on their next possession thanks to a 45-yard field goal by A.J. Brown with 3:51 left in the half.
The Vikings didn't score again, and they barely moved the ball the rest of the night. They managed just 37 yards of total offense and one first down in the second half against a fierce BSHS defense that displayed significantly more discipline during the final two quarters.
Offensively, the Braves began running more up-tempo, hustling to the line and using quick counts when they sensed the Vikings were fatigued. Bonner Springs kept them reeling as it put together an eight-play, 69-yard drive late in the third quarter. The Braves blended short passes, quarterback scrambles and toss plays to perfection. A 21-yard keeper by Smallwood and a 21-yard toss play to Jackson did most of the damage before Smallwood scored on a QB sneak from less than a yard out. Mitchell's extra point put BSHS ahead 21-17 with 3:35 left in the third quarter.
After that, the defense did the rest. Seaman struggled mightily against a Bonner Springs defense that grew more aggressive by the snap.
"It was crazy out there," linebacker Matt Call said of the atmosphere on the field during the final minutes. "There was a lot of emotion going on, and it felt great."
Seaman punted on its next three possessions and then turned the ball over on downs in the final minute. During the Vikings' final drive, Call smothered Chaffee for a 7-yard loss on first down. Three plays later, Call and Darian Neal burst through the middle and tracked down Chaffee for another sack that sealed the victory and sent the Braves' cheering section and sideline into a frenzy.
"I'm at a loss for words," Smallwood said of opening his senior season with a victory. "This hasn't happened often. I'm kind of emotional right now. This is the last first time I'll do this … so it's mind-blowing. I'm ecstatic. I'm ready to keep rolling."
Smallwood completed 15 of 21 passes for 111 yards and a touchdown. He also ran 19 times for 76 yards and a TD. Jackson carried the ball 11 times for 51 yards, and Williams had six catches for 86 yards and a touchdown.
Bonner Springs (1-0) next plays at 7 p.m. Friday, Sept. 9, at Mill Valley (1-0). The Jaguars beat Lansing 42-21 in their season-opener.