Despite rain, AutumnFest still 'a-go'

Photo Gallery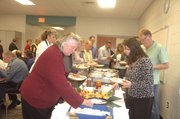 Edwardsville AutumnFest 2011
Edwardsville AutumnFest 2011 was Friday and Saturday, and included carnival rides and games, live music, a parade, a Kansas City Barbecue Society-sanctioned barbecue contest, an Edwardsville Idol competition and a bingo game benefiting students at Edwardsville Elementary.
Despite the rain, which started around noon, temporarily dampening the festivities, the sky seems to be clearing and festival organizers say AutumnFest 2011 will carry on.
"We're a-go. I'm very optimistic" the rain will clear up, Phyllis Freeman, founder of the festival and chair of the AutumnFest planning committee, said shortly after the rain got under way and the rides and activities had to be halted.
Some attendees left as a result of the rain, but many still remained, taking shelter under the Bank Midwest canopy that had been set up for the pumpkin decorating contest or waiting it out under the overhang of the city hall roof.
Larry Lidtke of Kansas City, Kan., who is the owner of Signature Sausage Company and was one of the vendors at the festival, watched the rain fall from the comfort of his folding chair he had placed next to the city hall building. He said he had no plans to pack it up anytime soon.
"A little rain never hurt," he said, noting that rain had fallen during last year's AutumnFest, as well.
Now that the rain has stopped, the festivities soon will commence, with evening activities to include the ongoing carnival rides and games, going on until 7 p.m.; the awards ceremony for the barbecue, pie, chili and salsa competitions at 5 p.m.; a bingo game and fundraiser for Edwardsville Elementary from 6 p.m. to 10 p.m.; and area bands Almost Kissed, going on at 7 p.m., and Slow Cousin Walter, going on at 8 p.m.