Braves, Bobcats post fast times at Bonner Springs Invitational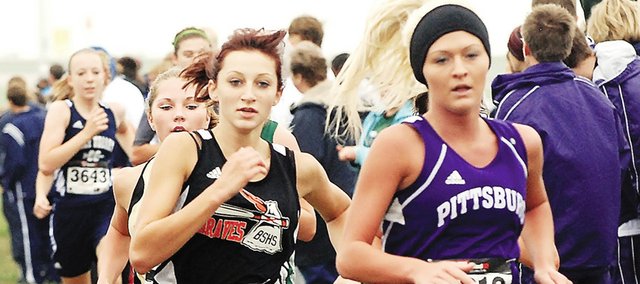 Kansas City, Kan. — Speed is always at a premium at the Kansas Speedway, so it proved to be the ideal setting for the new home of the Bonner Springs Invitational.
Bonner Springs High School's home cross country meet broke in its new digs Saturday at the Speedway, and the result was some understandably fast times on a course that featured a few rolling hills but was mostly smooth.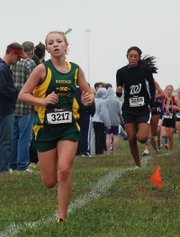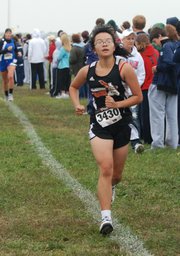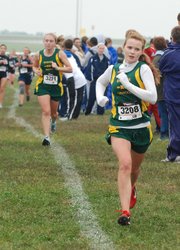 "When they came out of the (finisher's) chute, they all asked me, 'Hey, what's my time?'" BSHS boys coach Bill Downing said of his runners' excitement about their performance.
The Braves had plenty to be excited about. Many of them posted their best times of the season. Matt Coffman led the way by taking 19th in the 5K race in 17 minutes, 43.14 seconds. He paced BSHS to a 12th-place finish out of 20 teams. T.J. Kimbrough also battled his way through the pack, made a strong finish and took 27th in 17:59.32.
Austin Schuler also had his best performance of the season and placed 57th in 18:46.52.
Downing said he was happy to see so many of his runners embrace the challenge of competing against the faster competition rather than coasting through the race.
"This is a state-type atmosphere here, and a lot of these teams go to state every year," Downing said. "It's good competition and lots of runners, and when you get in the middle of the pack it can be easy to just sit there and ride it out during the race, but they saw it as an opportunity to run their best and keep improving."
Rounding out the Braves' lineup, Thomas Hook was 90th in 19:35.26, Zach Quigley took 108th in 20:22.36, Tre Scott was 114th in 20:37.70 and Josiah Seaton finished 128th in 22:27.12.
Downing was particularly pleased with Seaton, who filled in at the last minute when teammate Joe Casteel missed the meet with illness.
"It was a situation where you ask him, 'Do you want to run varsity or do you want to run JV?' because you need five to score (in the team standings) and you can fill out to seven (runners in the varsity race), and he said, "Varsity, coach!" Downing said of Seaton's eagerness to see faster competition. "That was pretty sweet."
De Soto's Angel Vasquez pushed the pace and cruised to a first-place finish in the 5K race in 16:23.77 — 25 seconds ahead of the runner-up. De Soto had three of the top five finishers and cruised to the team title with 61 points. Mill Valley and Topeka Seaman tied for second with 112.
The Basehor-Linwood boys finished 11th, and the Bobcats had one of the top individuals in Jonathan Oliva. Oliva went out fast and continued to climb through the pack before charging to a ninth-place finish in 17:30.09.
Tanner Tavis was the Bobcats' second runner and finished 41st in 18:22.21. The next three packed together and finished within seven seconds of each other. Mark Vitt was 75th in 19:10.17, Casey Jones was 79th in 19:13.06 and Johnny Fulkerson finished 81st in 19:17.73.
Rounding out the squad, Joe Levinson finished 103rd in 20:07.13 and Eli Elliott was 113th in 20:33.29.
In the girls' competition, Lansing cruised to the team title with 52 points, Olathe Northwest was second with 63 and Topeka Hayden finished third with 133. Basehor-Linwood placed 10th and Bonner Springs was 16th.
Lansing's Mariah Anthony was the 4K champion in 15:19.
Although the depth of competition overshadowed it a bit, the Basehor-Linwood girls may have had their strongest performance of the season. Quinnlyn Walcott posted a top-20 finish as she placed 18th in 16:29. Ally Laney also broke the 17-minute mark and finished 31st in 16:59.
The Bobcats' next three runners — Kiersten Lindelof, Haley Stallbaumer and Rebecca Carroll — packed together and pulled each other through the race. The trio finished 76th, 77th and 78th, respectively, in 18:03, 18:04 and 18:05.
Sarah Rehm finished 104th in 18:50 and Katie Tindell rounded out the Bobcats' lineup with a 105th-place finish in 18:56.
Mandy Ballou led the Bonner Springs girls and posted her best time of the season. Ballou picked off numerous runners down the homestretch and placed 46th in 17:22. Cheyenne Hale also had her best race of the season and took 93rd in 18:26. Tessa Newberry was five seconds behind Hale in 97th, and Akiko Capalla was 100th in 18:38.
Also for Bonner Springs, Citlally Alvarado was 107th in 19:03 and Amber Lies took 116th in 20:03.
JV NOTES
Basehor-Linwood's Luke McGowan finished 11th out of 237 runners in the junior varsity boys race in 19:06.69. His time would have placed him 73rd in the varsity race.