Breakfast speaker urges openness to other viewpoints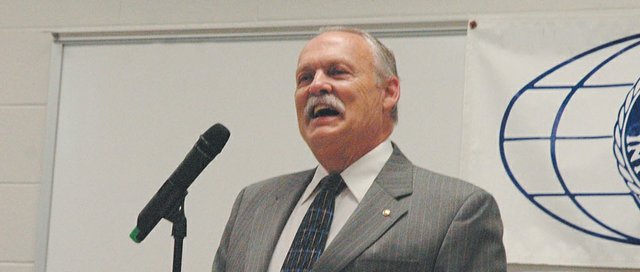 AutumnFest award winners
Several awards and trophies, listed below, were handed out Saturday as part of AutumnFest 2011.
AutumnFest 2011 parade winners
• Mayor's trophy for best overall entry: Dan Leap and the band Pompous Jack
• City council trophy for best theme: Edwardsville United Methodist Church
• Bonner Springs-Edwardsville Chamber of Commerce trophy for best business entry: JHF Dirtworks LLC
• Mills Trophies and More trophy for best kid's entry: Edwardsville Elementary School
• Bank Midwest trophy for best group: Bonner Springs High School Band and Dance Team
• Wally's Body Shop trophy for best vehicle: Bonner Springs VFW Post 6401
Salsa, chili and pie contest winners
Salsa
• First place: Billie Jo White
• Second place: Charlene Biles
• Third place: Billie Jo White
Chili
• First place: Charlene Biles and Ed Hulse
• Third place: Marsha Kienzle
Pie
• First place: Carmalette Sumoja
• Second place: Ed Hulse
• Third place: Katherine Bresette
Top five winners in the Smokin' N the Ville barbecue competition
• R Butts R Smokin
• Pork Me Purple
• Phat Jacks
• Bit T'z Q Cru
• Burnt Finger BBQ
There's often more than meets the eye to people and situations.
This was the message shared Saturday morning by the Rev. Bob Maile during the annual Mayor's Prayer Breakfast in Edwardsville. The event preceded Saturday's AutumnFest events, which included a parade, carnival and Kansas City Barbeque Society-sanctioned barbecue contest.
Maile, an ordained minister and retired superintendent of the Kansas School for the Deaf, was the featured speaker at the breakfast, which is sponsored each year by the Edwardsville Kiwanis Club.
Prior to his speech, Maile passed around a sheet of paper containing several well-known optical illusions — one was a photo that, up close, looks like Albert Einstein. When looked at from further away, however, the face in the photo appears to look like Marilyn Monroe.
Maile used the illusions to illustrate his point that there is often more than one way of looking at something, and it's important to be open to perspectives and ideas from other people, as well. He cautioned against being too quick to judge someone who looks or acts differently.
"The point is that it's worth our while to look at people a little bit differently," Maile said. "When you're ready to respond, when you're ready to pass judgment, when you're ready to say something, just hold back a little bit. Maybe there's another perspective. Maybe there's something you don't understand. Maybe Albert Einstein is Marilyn Monroe … look at it differently."
This year's event included piano music played by retired Clark Middle School teacher Elaine Berg, a breakfast of eggs, bacon, biscuits and gravy, fruit, and assorted pastries, and a state of the city address from Edwardsville Mayor John "Tiny" McTaggart.
In his address, McTaggart noted that Earp Distribution, the sole wholesale provider of foods and goods to approximately 450 McDonald's and Chipotle Mexican Grills in the Midwest, was now open. Construction of the facility got under way in May 2010, and Earp moved this summer from Kansas City, Kan., into its new headquarters. It officially began operations in late August in Edwardsville.
And more economic development is yet to come, McTaggart said. Premiere Beverage Inc., a wine and spirits distribution center owned by Glazer's Distributors, is expected to open early next month in the 245,000-square-foot building on Blake Street that formerly housed Appleton Papers Inc.
"The city is (on) a pretty sound basis right now, very sound," McTaggart said. "We're looking forward to a really bright future."