Runners rally to show support for Bonner Springs High School senior battling cancer
Basehor-Linwood organizes T-shirt campaign to show love for Capalla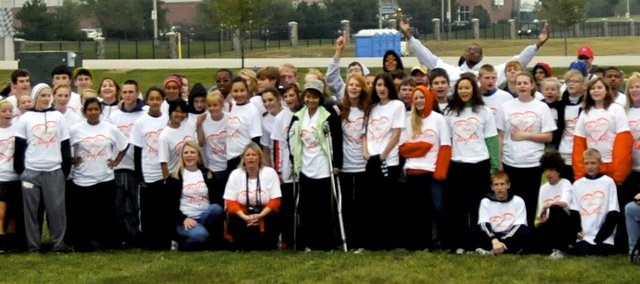 Kansas City, Kan. — Scintila Capalla's presence has been absent from the starting line this season at cross country races.
The Bonner Springs High School senior has good reason, though.
Just weeks after breaking the school record in the 3,200 meters early in the 2011 track season, Capalla's times stopped dropping. Soon it became painful to walk, let alone run. Capalla didn't know what was wrong. She'd trained so hard and thought she had done everything right.
Early in the summer, a six-centimeter tumor was discovered in Capalla's right knee. In mid-July she was diagnosed with osteosarcoma — a form of bone cancer.
Since then she has undergone eight rounds of chemotherapy at Children's Mercy Hospital, with two more to go. Then she will have knee-replacement surgery, followed by five more months of chemo. If all goes well, her treatments will be done by April.
It'll be too late to revive a promising high school running career that saw Capalla develop into the Braves' top cross country runner, as well as a track standout.
"It's kind of sad," Capalla says. "I'd be having a lot of fun my senior year if I could run … but it's all right."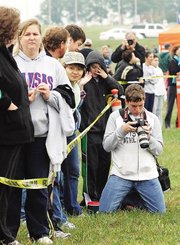 Capalla certainly misses running, but on Saturday at the Bonner Springs Invitational she found out just how much the running community misses her.
Bonner Springs girls coach Rob Marriott asked Capalla to attend the home meet and fire the starting gun for the varsity girls' race. It would be a way for her to participate in her final home meet.
When Capalla arrived for the meet at the Kansas Speedway, she was greeted by 480 people — teammates, coaches, administrators and parents from BSHS and numerous other schools — wearing T-shirts bearing an orange heart and the message "We love you Scintila."
Cancer may have taken away Capalla's ability to run for the moment, but her fellow runners hadn't forgotten about her.
BEYOND RIVALS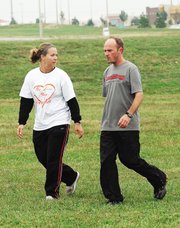 Word that Capalla had developed cancer rattled her Bonner Springs teammates and coaches, but the Braves' competition also took the news with a heavy heart.
Basehor-Linwood cross country coach Jeff Venema was surprised when he looked over the list of Bonner Springs entries for the season-opening Basehor-Linwood Bobcat Invitational and saw Capalla wasn't going to run.
"I said, 'What's wrong with Scintila?' Venema recalled, adding that he assumed Capalla had an injured hamstring or other minor injury. "They said, 'Oh, well she has bone cancer.'"
Venema was floored. He'd seen Capalla develop as a runner during the previous three years. Venema knew Capalla was friends with many of his runners. What if it had happened to one of his own?
On Sept. 1, BLHS sophomore Ally Laney finished first at the Bobcat Invitational. It quickly became clear one of her fiercest competitors wasn't there.
"That first race, once I finished I noticed something was missing," Laney recalled of noticing Capalla's absence. "As soon as I went up to her friends, they were crying and told me everything. I was like, 'Wow.' It felt weird (not having her in the race) because she's always right there behind me, and she pushes me."
After the meet, the Bobcats sprung into action.
Venema began to brainstorm, and he soon came up with a T-shirt tribute.
"I got to thinking: We're supposed to be rivals with Bonner Springs, and so it would be nice if a rival school did something for Scintila," Venema said. "So I got with my team and made the suggestion, and they were immediately for it. They said, 'We know this girl from track and cross country,' and everybody thought that was a great thing to do for her."
Venema checked with Marriott and BSHS boys coach Bill Downing — Capalla's track coach — to make sure the tribute would be OK. After that, Venema spread the word to other programs competing in the meet, and they eagerly joined the tribute.
Kaw Valley League rivals Lansing and Mill Valley wore shirts, as did nearby programs like De Soto and far-away schools like Pittsburg. The Paola program went a step further, rounding up financial donations to help support the Capalla family.
"Distance runners protect their own," Venema said, explaining why so many programs wanted to participate.
"They respect her personally," Downing said. "They've seen her work ethic and how far she's come ever since she was a freshman. And she's so likable. She's somebody that other coaches and runners talk to themselves, so it shows a lot of respect for her and the kind of person that she is."
A SYMPATHETIC VOICE
Perhaps no runner outside of the Bonner Springs program was more excited to wear her tribute T-shirt than Laney.
One of Capalla's closest distance-running competitors — Laney won their cross country matchups last year while Capalla was faster on the track — the pair have another common bond with cancer.
Laney battled leukemia when she was 3 years old. She knows firsthand some of the challenges Capalla is enduring, whether it's hair loss, fatigue or any of the other side effects that come from chemotherapy.
"When we talk about her, I'm in tears because I see what she's going through," Laney said.
At the same time, Laney also knows the odds are not insurmountable.
"She's really strong," Laney said of Capalla. "She can get through it."
STAR FOR A DAY
If not for the crutches Capalla used for support, it would've been difficult Saturday to tell something wasn't right with her. She sported a camouflage hat, one of the tributes T-shirt and a content smile.
She even had a spot in the Braves' varsity lineup.
"I'm only running five or six girls on varsity," Marriott said, noting that seven runners make up a full varsity lineup. "Scintila's still a varsity runner in our minds."
Marriott says Capalla would have been in contention for a top-20 medal at the Bonner Springs Invitational had she been able to run. Still, on a day where some of the state's most talented programs competed and seven runners finished the 4K race in under 16 minutes, Capalla was the star of the day.
She's facing a challenge far more grueling than any cross country course could throw at her, but her fellow runners made sure her senior season included a memorable moment in the spotlight.
"She seems like a great kid, and the kind of thing she's going through should never happen to any kid," Venema said. "So if we can just help her have a special day, then that's great."
For Capalla, the gesture was completely unexpected, and it warmed her heart.
"I was very surprised," Capalla said of her reaction to the T-shirts, a smile glowing on her face. "But it was a good surprise. I just loved it."