Homecoming events slated this week at
BSHS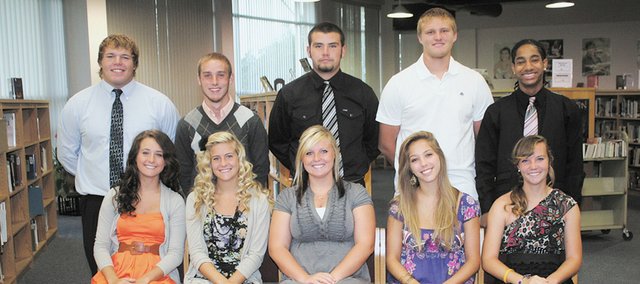 Bonner Springs High School Homecoming week is in full swing, with culminating events like the homecoming parade, the coronation of the king and queen, and the homecoming dance going on this weekend.
Events thus far have included daily theme activities, like Maui Monday, where students dressed up in Hawaiian clothing; camo Tuesday, where students donned army fatigues; and 80's Day Wednesday.
Today's theme will be Identity Theft Thursday, where students will dress like somebody else. The day will also include a homecoming royalty assembly during the sixth-hour class period, where students will cast their votes for homecoming king and queen.
King candidates are: Nick Clark; Nate Mitchell; Blake Pyles; Brett Steuart; and BJ Watson.
Queen candidates are Lauren Callahan; Emily Hunt; Ashton Istas; Toni Stock; and Breanna Tendick.
Next will be War Party Day Friday, where students will dress up in orange and black to get in the spirit of that night's homecoming football game against the Tonganoxie Chieftains.
Float construction sessions, where each grade designed and built their own float in preparation for Friday night's homecoming parade, took place throughout the week, as well, and will continue tonight with freshman and juniors scheduled to complete their floats from 4 pm to 8 p.m.
Homecoming officially kicks off Friday night with the parade at 5 p.m. The parade will start at the corner of Oak and Second streets, where it will travel through downtown, ending up at the Bonner Springs High School faculty parking lot.
Then it's time for the pep rally and tailgate party at 5:30 p.m. in the faculty parking lot. The rally will include a performance from the BSHS Band, dunk tank, Booster Club barbecue, shaved ice from Shave Shack, inflatables, face-painting and more.
Kick off for the homecoming football game is 7 p.m., and the coronation of the king and queen will take place during halftime of the game.
The homecoming dance will be from 7 p.m. to 10 p.m. Saturday, in the commons area of BSHS.