Going green: A lesson in recycling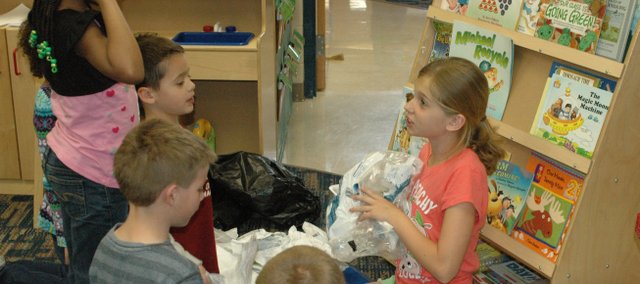 On Friday, the students became the teachers to pass along a message of being good to the earth at Delaware Ridge Elementary School.
In recognition of Earth Day, fourth grade students, in groups of four, went into kindergarten through third-grade classrooms for an hour to teach the younger students all about the importance of reducing, reusing and recycling. Emily Heldstab, who teaches the grade along with Melissa Corcoran, said it was the first time the school has had students go into other classrooms as "experts."
"The students received incredible feedback from all grade levels," Heldstab said. "They made the learning experience valuable for each classroom and learned so much themselves. Having to teach the subject increased ownership over their own learning. Since they knew they would have to teach the skills to others, they were focused and intentional about becoming experts."
The students spent about a month learning about recycling themselves, then spent a week preparing to teach the subject to younger students. Each group decided which grade level they wanted to teach and prepared a lesson plan and activities.
Photo Gallery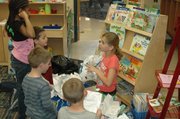 DRE 4th graders go green
Delaware Ridge Elementary School fourth graders became teachers for an hour Friday to pass their knowledge of recycling along to students in the lower grades.
In one of the third-grade rooms, Keirsten Harris, Lauren Randle, Tyler Rye and Jordan Mahone talked about the difference between things that could be reused, reduced and recycled, making lists of items in each category and then breaking up into groups to find items in the room that could be put in each category.
Kindergarten classrooms focused on recycling, also breaking up into groups at times so that each fourth grader taught a small group a lesson. Activities included playing a recycling computer game, sorting through a bag of "trash" to identify what was recyclable, and reading a story about a recycling super hero. They also cut out pictures from magazines of various recyclable items to place on a chart within the correct category — paper, plastic, glass, cans, wood and cardboard.
For some of the students, taking on the role of teacher was an eye-opening experience.
"How do you do that every day?" Kaylee Taylor asked Corcoran once the fourth graders gathered back in their pod to reflect on their experience.
"I thought it was fun — I would love to be you," Javon McKamie told Corcoran.
The fourth graders filled out worksheets about the easiest and hardest parts of planning the lessons, and what they learned from teaching the lessons: what went well, and what they would change if they were to try to teach the lesson again for a new set of students. Within their groups of four, they also gave peer feedback.
Madelyn Nolting said she thought that by teaching kindergarteners about recycling, she learned the lesson more thoroughly and will remember it better.
"I think it's always better to say it out loud than to keep it inside," she said.
She said the younger students seemed to very receptive to the lessons, as well, though they were taught by 9-year-olds rather than teachers.
"I was nervous at first, but it was actually really easy," Nolting said. "… They were acting like fourth graders — they were really calm."