Braves stronger as team seeks return to postseason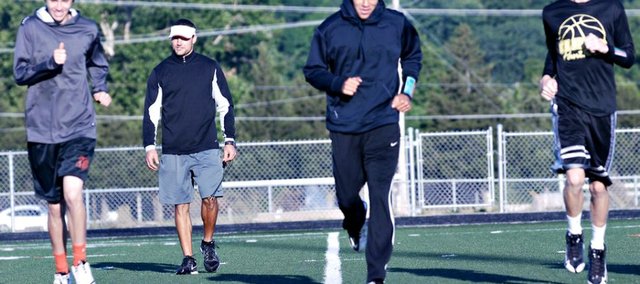 Bonner Springs football coach Lucas Aslin smiles when you ask him about it now, about the week he and assistant coach John Hilton decided it was time to give then-sophomore Jordan Jackson a look week four against Basehor-Linwood.
They watched Jackson put together a strong preseason camp, were impressed by his tools and knew he had the potential to be the quarterback of the Braves' future. But Jourdaine Smallwood was a senior coming off an all-conference season the year before, leading to him starting the Braves' first three games. But two straight early defeats and an in-house issue with Smallwood at practice led to Jackson being inserted into the starting lineup against the Bobcats, with the idea of putting Smallwood back in should the kid struggle.
At least that was how it was supposed to go: a chance for Jackson to get some experience under the lights and a lesson taught to Smallwood.
But the 6-2 record that followed? And just one interceptions thrown all year?
"We knew he was a good player and we knew he was ready," Aslin said. "We just didn't know how well he would play at 15 years old."
It's not as though Jackson wasn't without weapons. For starters, his older brother, J.J. Jackson, was a terror on the ground, rushing for 1,549 yards with 24 touchdowns. And Stevie Williams (50 receptions for 939 yards and 13 touchdowns) provided a home-run threat at receiver, capable of 50- and 60-yard bursts.
Entering 2012, that arsenal is gone as Jackson begins his first full year as the team's undisputed leader behind center.
Aslin knows that with two more strong seasons, Jackson will be playing football at the next level. Which is why 2012 will make for an interesting case study, not least because he'll be working with a new set of tools.
"He's going to have to be a guy that's going to pick and choose," Aslin said. "I keep telling him he has to be like Tom Brady: he's not going to have a home run threat. He's going to have to spread it around and not lock in on one guy, which will make him a better player."
On the receiving end of those passes this year will be a trio of receivers who emerged this summer through practices and 7-on-7 ball: seniors Mason Roberts and Jonathan Blackwell and junior Travis Dooley. Behind them, Aslin said, competition is still open for the fourth receiver position.
Running the ball this year will be junior Jared Knershield, whom Aslin said took the starting job "over by the throat" this summer.
"He's gotten bigger, faster and has worked extremely hard," Aslin said. "He squatted 315 (pounds) 20 times (on Aug. 7). Usually when your tailback is your strongest kid, it's going to be a pretty good year. It's going to be his position unless he doesn't play well or gets hurt."
In losses to Basehor-Linwood and, in the playoffs, to Gardner-Edgerton, Bonner Springs found itself out-muscled at times last year. That stands to change in 2012 as in Aslin's second year of tutelage, the summer strength and conditioning program swelled from 80 in 2011 to 268 this year.
Knershield (195 pounds) will pack a punch in the backfield, and Bonner Springs will boast one of its strongest lines in recent memory. Leading the way is senior offensive and defensive lineman Tyler Howell (6-foot-8, 260 pounds), ranked 10th in Kansas by Rivals.com. Howell is among the half dozen leaders Aslin said stepped up this summer, whereas 2011's team had just a handful of Braves leading the pack.
One of the biggest changes from 2011 to 2012 has been junior Kyle Dumler, who before the summer recorded the best squat of the year with a 585-pound rep. Dumler has gone from weighing 226 pounds as a sophomore to nearly 285 this summer, all while remaining fleet-footed for a lineman — he ran a 5-second 40-yard dash for Kansas State University recently. Aslin said he expected to insert Dumler in some packages at outside linebacker and defensive end this season.
"Very few guys that we're going to play are going to have his size, speed and ability," Aslin said.
Bonner Springs begins its season against a few unknown quantities. Its season begins on Aug. 31 at Turner, who has a new head coach and little to no film to speak of, which Aslin said can be a scary proposition in beginning a season.