Wheat harvest images, local photography displayed at library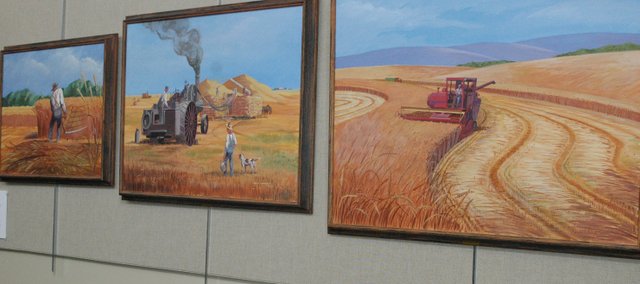 Artwork currently on display at the Bonner Springs City Library contains scenes that should be familiar to Kansans, as well as some images that are particularly familiar to local residents.
The library's Art Gallery Wall Exhibit features artwork contributed by the National Agricultural Center and Hall of Fame, 630 N. 126th St., focusing on various scenes of wheat harvests through the years. Also on display in the library through the end of August is the photography of Mariah Seifert, Bonner Springs High School junior.
Liz Lumpkin, curator for the Ag Hall, said when the library asked the Ag Hall if they could lend them some rural artwork, she chose to focus on wheat harvests in part because of the Ag Hall's paintings by Felix Summers, which depict change in the technology of harvest over time.
She added the three paintings to other prints from the Ag Hall's collection and some information about the change in the work of the harvest — how it went from handheld scythes to steam power to gas power.
Lumpkin and Cathi Hahner, Ag Hall director, said they hope that in addition to educating the public about the wheat harvest, viewers also will be reminded that the Ag Hall offers an art gallery in addition to its historical farm equipment and replica farm town.
"A lot of people don't realize we have a gallery of rural art," Hahner said. "We have a wide range of paintings that depict agriculture and real life at all levels."
The Ag Hall has 50 to 60 pieces of art hanging in its gallery at all times, Hahner said. She added that the Ag Hall also has all the actual harvesting equipment pictured in the artwork. The wheat harvest artwork will be on display through September.
Also exhibiting in the display case in the library foyer are the photographs of Seifert, who says she began taking photographs as an eighth grader. She taught herself as a portrait photographer until she took the yearbook class last year and started taking action shots of sports and other student activities.
She won an honorable mention for a sports photo and first place for a student life photo in the regional contest of the Kansas Scholastic Press Association, which earned her the right to move on to state, where she received a third place for a different sports photo and another first place for a student life photo. All four photos are part of the library display.
Other photos on display are among Seifert's favorites from last year in yearbook class, and she said she plans to continue with photography, perhaps beyond high school.
"It's an option — I've thought about it," she said. "I've still got my junior and senior year, but I think I'm going to pursue it."
Seifert's photos will remain on display to the end of August.