Bonner Springs boys soccer season begins with narrow O.T. defeat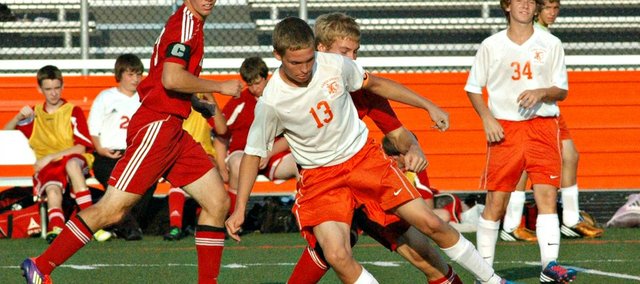 THS 2, BSHS 1 (OT)
First half scoring
Nick Korosec (BON) — 14:50
Second half scoring
Evan Stilgenbauer (TON) — :21
Overtime scoring
Matt Saathoff (TON) — 6:48 (Zack Tallent assist)
As time ran out in the second half, it looked as though Bonner Springs would start the 2012 soccer season with a win against Tonganoxie at David Jaynes Stadium. However, just when victory seemed all but certain, a late Tonganoxie goal turned a hard-fought win into a heartbreaking loss.
The Braves took a 1-0 lead into the second half and nearly preserved the victory, but allowed the Chieftains to even the score with less than a minute left in regulation, falling in overtime, 2-1.
"We just got out-played and out-hustled," coach Michael Moulin said. "Tongie is a good, physical team. We've just got to learn to step up and play that way."
Bonner Springs (0-1) went in front on a goal by senior Nick Korosec with 14:50 left in the first half and took the 1-0 advantage into the break. The defense thwarted several Tonganoxie shot attempts in the second half, leaving the Chieftains (1-1) in desperation mode in the final minute of the period.
A Braves victory seemed imminent until Tonganoxie junior Evan Stilgenbauer fired a shot from nearly 50 yards out in the final seconds. The ball got over the outstretched hands of junior goalkeeper Dominic Salvino and bounced over the line with 21 ticks left on the clock.
"I told the keeper not to worry about it," Moulin said. "Somebody should have stepped on (Stilgenbauer) and not let him take that shot in the first place."
Bonner Springs failed to get off a shot attempt in the final 21 seconds, so the game went to a 10-minute overtime period. Tonganoxie senior Matt Saathoff received a pass from fellow senior Zack Tallent and skipped it by Salvino to end the game with 6:48 remaining in the extra period.
The Braves will try for their first victory of the season Thursday when they pay a visit to Free State. Varsity action is set for 6 p.m.
"To us, this was practice for the entire season," Moulin said. "We're really talented and we can get to the postseason."