Food: Compulsive smokers — Quest for perfection propels area barbecue team to top of national ranks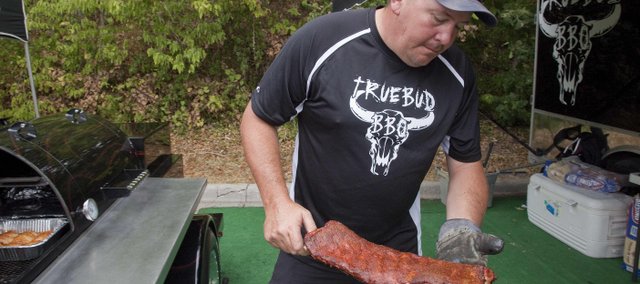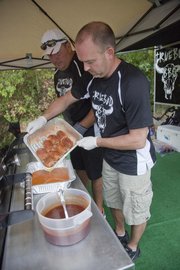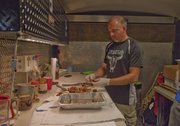 Tim Grant hits the door of his trailer — styrofoam box of just-sliced hot brisket cradled in front of him — at 1:34:35 p.m. and high-tails it for the judges' table.
Doors for the 1:30 p.m. turn-in close at 1:35. Grant slips through and sets down his brisket at 1:34:47.
He's right on schedule.
In a strategy that's admittedly part superstition, Truebud BBQ likes to be the last team to turn in brisket at every barbecue competition. Earlier the team was the first to turn in chicken at Saturday's Smokin' on Oak barbecue competition in Bonner Springs.
For Grant, of Tonganoxie, and Boyd Abts, Eudora, meticulousness is as much their signature as their secret rib seasoning, and it's helped propel them to the elite ranks of the country's top competition barbecue teams.
"We've got it down to a science," Grant said.
Truebud has been a top-10 fixture in the Kansas City Barbeque Society's 2012 Team of the Year points chase, including weeks at number one or two. Because points earned at every society-sanctioned open competition count, teams jockey for standings from week to week.
National champions often come down to who's on top when the clock runs out. And of the 4,000-plus teams in the society, executive director Carolyn Wells said, the 10 or 15 in the "top echelon" are usually neck-and-neck.
"The competition is really intense," Wells said. "It's meant to be fun, but it is serious, and these are truly the best barbecue cooks in the world."
The heat is on
Truebud threw a party for more than 100 relatives and friends Friday night, but on Saturday there's not a sauce splatter or beer can (other than the one Abts is sipping) in sight.
Inside the prep trailer, it's no picnic — it's a barbecue emergency room.
With turn-in time closing in, Grant's calmly calling for paper towels, scissors, knives, sauce. He's trimming meat, poking thermometers in it and ripping through more sets of latex gloves than a scrub nurse. There's packs of wet wipes in every corner, and paper cutting boards are whisked into the trash after every operation.
The trailer's even air-conditioned (though it's turned off while there's meat on the table).
The team settles on its six best chicken thighs from the 16 it smoked, tucks them into a box in Truebud's signature — and secret — pattern and rushes them to the judges.
"We cook this many just so we can find the best ones," Grant says.
From five slabs of ribs, Grant and Abts are looking for the 10 best bones.
"We can pretty much tell if they're going to be good by how easy it is to cut through 'em," Abts says. "Every slab's different."
The straightest, meatiest, tenderest, most symmetrical ribs go into the next styrofoam box and off to the judges. Pork comes next, then brisket.
Friends waiting outside pick over the pan of rejected ribs in minutes.
"A lot of our followers say we've ruined them on barbecue," Grant laughs. "You can't get anything fresher than fresh barbecue. If you go to a restaurant, they're warming it up."
Pulling it together
Grant started Truebud for fun, a way to reunite with friends he grew up with in Iowa — "truebuds," as they called themselves back then. Boyd joined after Grant moved to Kansas.
He and Grant are the main team members now, with Iowa friends, Grant's 14-year-old son, Conner, and other family members joining when they can.
Grant laughs when recounting the team's first barbecue competition.
"We had six guys in a pop-up tent," Grant said. "We overloaded the smoker, nothing got done, the chicken was raw ... it was pretty comical."
The team usually packed up and left before awards ceremonies. When they won their first ribbon — in pork at the American Royal open competition — they weren't there when their names were called.
"After that we were like, 'Maybe we should take this a little more seriously, maybe we're getting good at this?'" Grant said.
Now, Grant and Abts cook to win.
Last year, Truebud won national Team of the Year in ribs, the team's specialty. This year, they've traveled to barbecue competitions nearly every weekend since February, hitting the road after finishing their day jobs for the week — Grant's a network and telecommunications manager for Garmin and Abts has a guttering company — then tending to meat from 2 a.m. each Saturday. Truebud plans to keep it up through December, when they hope to come out on top in the overall points chase.
"Our goal is to be the best," Grant said. "You can't miss weekends and expect to earn those honors."