Mayor Clausie Smith called it in his State of the City address Thursday at the Annual Mayor's Banquet, referring to the predicted rain Friday evening.
"If it takes Tiblow Days and a band concert to break the drought, then so be it," Smith said.
While the weekend's rain wasn't enough to break the drought, it also wasn't enough to put a stop to any of the events for Tiblow Days, Bonner Springs' biggest annual festival.
The weekend began with the Mayor's Banquet Thursday. Smith detailed the progress the city of Bonner Springs has made in the past year.
"You can be sure your tax dollars are being used wisely," Smith said.
Photo Gallery
Tiblow Days 2012 kicked off with the Mayor's Banquet Thursday, followed by Friday's carnival, barbecue contest and band concert. Saturday's events included the Tiblow Trot 5-mile run, the parade and a car show.
Sen. Jerry Moran gave an off-the-cuff keynote address at Thursday's event and shared his experiences traveling the state as a U.S. Congressman and Senator, though he stayed away from discussing the issues in Washington, D.C.
"Perhaps there is an expectation that I might talk about what's going on in our nation's capitol, and for those of you who prefer that I don't, I'm not gonna," Moran said. "I think there's lessons to be learned, much more important for me to see what's going on in Bonner Springs and take that message back to Washington, D.C., than for me necessarily to come here and to attempt to tell you the details of why Washington, D.C. doesn't work any better than it does."
He said that in listening to Smith and talking to the attendees of the banquet, he learned that Bonner Springs was a special place to call home. The big-picture issues are important, he said, but his interest and passion were the issues that affect Kansans daily.
"While we often look to Washington, D.C., to find solutions to our problems — and we're going to work to find those solutions — what we really ought to be focused on is what we can do in our own lives and our own communities to make a difference in other people's lives and make our community a better place to live," Moran said.
Moran added that he wanted to ensure that the Kansas way of life was continued for future generations, and that the government didn't put too many hurdles in the way for that to continue.
The Marion Vaughn Community Service Award was presented to Carol Geary, who recently retired after 11 years as director of Vaughn-Trent Community Services. She started volunteering at a young age as a Sunshine Girl.
In Bonner Springs, she also has volunteered in the community in several other ways, including serving as president of the Friends of the Library and on the state board of the Friends of Kansas Libraries.
Photo Gallery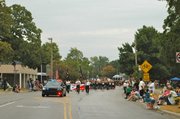 This year's parade included all the favorites: floats, cool cars, bands and lots of cute children.
Geary kept her comments upon receiving the award brief, expressing that she was honored to be included among the other recipients of the award. She encouraged everyone to find a way to volunteer in their community.
"Find something you like and find an organization. There are so many places that need your help," she said. "It is very, very rewarding. It doesn't have to be a lifelong commitment, sometimes it's only a few hours, but it can be just as much as you want it to be and those organizations will be really, really happy to have your help."
The rain sprinkled on the participants of the Tiblow Trot Saturday morning but had mostly stopped by 9:30 a.m. for the parade.
The Tiblow Days Car Show had a goal of 75 entries and nearly made it, with 68 registering. But the morning's light rain showers scared some car owners off, so the show included about 52 vehicles.
David Block, president of the Bonner Springs-Edwardsville Chamber of Commerce, which organizes the event, said the chamber estimated that overall attendance at the festival was down slightly, but the chamber was happy with the festival.