Local businesses offer gift ideas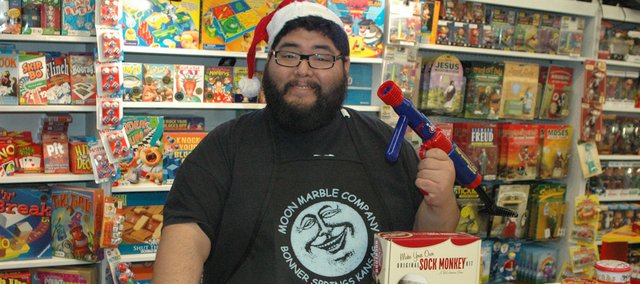 Bonner businesses
DeeDee's Jewelry & Vintage Décor, 141 N. Nettleton Ave.
913-226-1324
DeGoler's Pharmacy, 202 Oak St.
913-422-3066
Feldmans Farm & Home Center,
430 N. 130th St.
913-721-5561
Go!Lizards and Go!Lizards Grooming, 220 Cedar
913-667-3388
Magnum Opus, 129 N. Nettleton Ave.
913-441-0876
Melissa Rieke Photography, 224 Oak St.
913-488-5125
melissariekephotography.com
Moon Marble Co., 600 E. Front St.
913-441-1432
Nuts and Bolts TrueValue Hardware, 626 S. 130th St.
913-553-2658
The Pink Zebra/Provence on the Prairie, 221 Oak St.
913-422-1555
Sunflower Embroidery, 207 Oak St.
913-422-4501
This and That, 201 Oak St.
913-200-2231
Christmas is right around the corner, and there are likely many who still need to check gifts off their list. But instead of making a trip into Kansas City, why not check out some of the great gifts available just down the street?
Many Bonner Springs businesses offer some unique gift ideas, and over the past week, The Chieftain visited local stores to help you find gifts for all the people on your list.
Lovely Lady
With Bonner's locally-owned boutiques, there's several options for outfitting the women on your list. Handbags, jewelry, clothing and other female-targeted items can be found at DeeDee's Jewelry & Vintage Decor, Magnum Opus and The Pink Zebra.
Magnum Opus, which sells items created by 80 to 100 artists, also has some unique items like vests made form recycled ties and hand-made shawls and wraps.
At the newly-opened DeeDee's, owner Val Barth makes custom jewelry to fit the receiver's personality, with pieces both available in the store and the option to incorporate personal jewelry items.
"So if you didn't have a pair of your grandmother's earrings, you just had the one, you can hang it from a necklace and still wear it and enjoy it," she said.
For those with a student on their list, DeeDee's also creates bedazzled clipboards.
Man's Man
With so many boutiques, some might think shopping for the guys on Christmas list would be difficult. But there are a few options.
Nuts and Bolts TrueValue Hardware is an obvious option for manly men. Manager Cory Richards says the Weber One-Touch Platinum grills, shop vacuums and, of course, tools have been big sellers.
There's also Feldmans Farm and Home Center, which offers more than just farm supplies and 38-pound bags of dog food. Manly items include Carhartt jackets and clothing, boots and hunting gear as well as tools.
Jay Reyes, employee at Moon Marble, said the store has several items that would appeal to those with a Y-chromosome because "All guys are big kids at heart, so anything gadgets, gizmos or gross will interest them."
The store offers model cars, wind-up robots and playing cards, as well as logic games and puzzles. It also has items like "The Ultimate Geek Pen" — a combination pen, stylus, reading light, blacklight and laser pointer — and novelty items like the Mug Shots, a set of shot glasses featuring the mug shots of gangsters on the front and their rap sheets on the back. Or, for those men who love shows like "The Walking Dead," there's the Dashboard Zombie.
Children
If a handmade gift is up your alley, Magnum Opus offers some colorful stuffed animals created from socks.
The Pink Zebra offers many baby and toddler apparel items, most intended for girls. Baby items like blankets and unique night-lights also can be found at DeGoler's Pharmacy.
If the little boy on your list is a lover of comic book superheroes, This and That has several three-dimensional wall-hangings with such characters as Spiderman and The Avengers. The store also has some Disney items, and the hot item for girls has been a polka-dot fingernail polish kit.
Moon Marble, of course, is the ultimate stop for children's toys and games. Reyes said a couple of big sellers are the Marshmallow Blaster and bouncy-ball-like ZeeBees.
Feldmans Farm & Home Center has a large offering of children's toys and clothing, though much of it, like the mini cowboy guitar and the John Deere shape sorter for toddlers, has more of a country theme. The store also offers tractor- and animal-shaped tire swings.
If helping parents capture moments in their children's lives ranks high, Melissa Rieke Photography also offers gift certificates for photo sessions. 
Foodie/Chef
The Pink Zebra offers a locally-made food items, with jellies in flavors like raspberry jalapeno and spiked cranberry jam, as well as a beer bread mix and "Dip Sticks" flavor packets that can be added to sour cream to create chip or vegetable dips.
Another food item in the store are Fireside Gourmet Coffees, with such flavors as pumpkin pie mocha and chocolate-covered cherry.
Some unique kitchen items like whisks, ice cream scoops, cheese knives and spatulas can be found at Magnum Opus. Two retired art teachers use polymer clay to create colorful handles that bring some personality to these kitchen tools.
Moon Marble also has some unique kitchen tools called Mix Stix for the playful chef — wooden mixing spoons that double as drum sticks. Other items for chefs are letter-pressed cookie cutters and InSet Salad Servers.
Interior Decorator
Need something to help warm up a room? Antique or vintage furniture and other home décor items can be found at DeeDee's, DeGoler's Pharmacy, Provence on the Prairie (inside The Pink Zebra), and WAJ, Inc.
Magnum Opus offers vintage pottery pieces from the 1940s and 50s, as well as decorative, hand-blown glass balls. Decorative lanterns are one of the items featured in Provence on the Prairie's portion of The Pink Zebra, and Dee Dees can school customers on the current trend of decorating with large, glass jars.
For the crafty home decorator, Sunflower Embroidery has kits and patterns for pillows, rugs and quilts. For the not-so-crafty, the store also has ready-to-sell quilts. Customers also may order special embroidered items, even if they only want one item embroidered, so long as they provide about a week of turnaround time. 
Animal Lover/Furry Friend
Pet-lovers can find their furry children's gifts, like leashes, toys and even some clothes, at Go!Lizards Grooming as well as This and That.
Feldmans Farm & Home Décor also offers leashes, toys and beds or pillows for man's best friend. For the birdwatcher, the store also has a large number of birdfeeders.
If you are looking to give the gift of an animal, help an orphaned cat or dog through Bonner Animal Rescue, which lists its adoptable cats and dogs at bonnerrescue.org.
For a more non-traditional pet, Go!Lizards' inventory goes beyond the its scaly moniker. In addition to the lizards, turtles, frogs and snakes one might expect, the store also carries rabbits, chinchillas, ferrets, degus, various birds and parrots and even tarantulas.
Sports Nut
This and That provides the widest array of collegiate sports items, with mostly Kansas University, Kansas State University and University of Missouri items. DeGoler's Pharmacy also has several KU and KSU items, including decorative shovels.
KU-themed items for women can be found at Magnum Opus, including jewelry, purses and a crimson and blue scarf created by a Bonner Springs woman from recycled cashmere sweaters.