Blood drive to honor 4-year-old with leukemia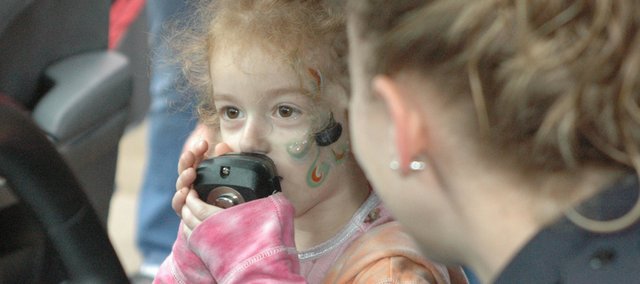 It started with, of all things, a swollen toe.
But a trip to the doctor to check on what seemed to be a simple malady ultimately led to a diagnosis of a rare type of leukemia for 4-year-old Haley Bernard.
While her family hopes they have found an affective treatment for Haley's blood cancer, thanks in part to her newborn sister, Haley currently requires regular infusions of blood platelets. This underscored the importance of blood donations for the Bernard family.
"There was one time that Haley was sitting in the hospital needing platelets, and they didn't have any in stock — they had to call another hospital and order some," said Haley's father, Dennis Bernard, a volunteer firefighter with the Bonner Springs Fire Department.
So the family, with the help of the fire department, has organized a blood drive Dec. 28 at the Bonner Springs Fire/EMS Station. The event will take place two days after Haley begins chemotherapy treatments for the disease that seemed to come out of nowhere.
The Bernards noticed Haley's swollen toe Sept. 25 and took her to the hospital. They learned Haley had a cellulitis infection and were referred to Children's Mercy for bloodwork two days later. There, doctors found blasts — new, immature blood cells — in Haley's blood, an indication that her cells weren't maturing correctly. Though the number of blasts wasn't as high as in patients with common forms leukemia, doctors performed a bone marrow biopsy.
While the biopsy confirmed Haley didn't have a common form of blood cancer, they continued to watch Haley over the next few weeks and found her platelet counts were decreasing.
"It seemed like each time we went (to the doctor), they just kept getting lower and lower, dropping down to where bleeding occurs, so she might get a nose bleed," said Dennis Bernard, who also works for the city of Lawrence's public works department.
Then, doctors started seeing other signs of leukemia, as Haley's liver and spleen began to enlarge. They sent the bone marrow biopsy for several weeks of testing to a company in California that specializes in rare leukemias.
Meanwhile, Haley's little sister Summer was due to be born. The day Lyndsley Bernard went into labor, the family got a call from California with the likely diagnosis — Juvenile Myelomonocytic Leukemia, or JMML, which usually affects children ages 2 and under, according to kidshealth.org. The best treatment for this type of leukemia is a bone marrow transplant, the doctor said.
"Then the doctor tells us, 'We really need to try to save the umbilical blood from your baby if we can,'" Dennis Bernard said. "... But we had no means established to get that blood. It's very expensive to get the umbilical blood."
Families who have a qualifying diagnosis, like leukemia, can get umbilical cord blood extracted and stored for free, but Haley's diagnosis was not yet final. Dennis Bernard said as soon as his wife was admitted to a room at the hospital, he was on the phone with various cord blood storage companies, trying to get them to provide the service, but none was willing.
A relative then stepped forward to cover the costs. A cord blood storage kit was flown in from Kentucky and arrived at the hospital six minutes before Summer was born. About a week ago, it was confirmed that the cord blood was a match for Haley and could be used in her treatment.
"So by the grace of god, we were able to catch it in time, and it was a match, as well," Dennis Bernard said.
Treatment for Haley will be difficult, Lyndsley Bernard said, because JMML is so rare and has a reputation of relapsing. Haley is scheduled to begin eight days of intense chemotherapy the day after Christmas before receiving the cord blood infusion. For now, she has been receiving platelet transfusions weekly because her platelets are so low.
While other blood elements can be stored for a couple of weeks or longer, platelets have a shelf-life of just five days once blood is drawn, and one of those days must be spent extracting the platelets from the blood and testing. The incident in which the hospital ran out of platelets drove home the need for regular blood donors.
"If nobody's donating, then nobody's getting, and it could be within a few days that somebody needs them," Dennis Bernard said. "People need to be aware of how that works. It's not like just once a year, they can go gather all this blood, put it in a bank, use it and at the end of the year, start over. … People need to be aware of that and know that. Blood is constantly needed."
Bernard's fellow firefighters at the Bonner Springs Fire Department were quick to support his idea for a blood drive, which will take place 10 a.m.–7 p.m. Friday, Dec. 28, at the training room in the fire/EMS station, 13001 Metropolitan Ave.
Appointments may be booked in advance for the blood drive by entering sponsor code HALEYat savealifenow.org. Donors also may book a donation appointment by contacting Teresa Hubbel at 913-422-5674 or fireadmin@bonnersprings.org.
As for Haley, her parents say she knows she is sick but doesn't understand the severity of her illness. She has gamely attended multiple doctor's appointments and sits still for the doctor's "pokeys," as she calls them — her parents say she even likes to watch the doctors as they draw her blood or set her up for a transfusion.
"She's been pretty active throughout it all, it hasn't got her down," Dennis Bernard said. "You can't tell she has leukemia by the way she acts because she's still very energetic, running and playing."