BSHS

girls basketball team strikes back, downs Piper, 46-39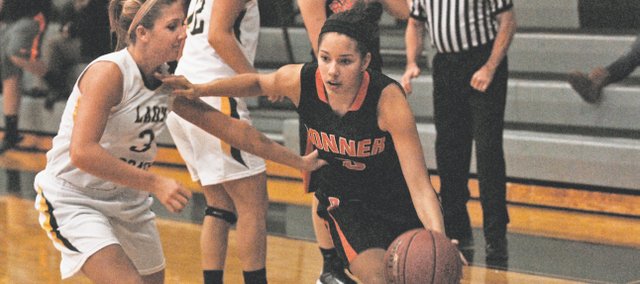 The Bonner Springs girls basketball team's hunger for avenging its Dec. 6 loss to Piper was such that, on Tuesday, it nearly found itself on the losing end against the Pirates again.
The Braves (5-1, 3-0 Kaw Valley League) withstood an early run by the Pirates, entered the fourth quarter trailing 29-30 and overcame an out-of-tune start to defeat Piper, 46-39, and stay undefeated in Kaw Valley League play.
Freshman Julianne Jackson scored all of her team-high 11 points in the second half and added six rebounds on Tuesday.
"I just really wanted to step up and help my team because they really needed the extra points there to get us going," Jackson said. "And it just snowballed."
The Braves used a 9-0 run in the fourth quarter to pull away from Piper and avenge their only loss so far this season.
They did so despite turning the ball over 12 times in the first half and in three of the second half's first four possessions.
"I think they get us out of control a little bit," BSHS coach Clay Oakes said. "There were times we were trying to push the ball when it wasn't there."
Jackson, whose first half was highlighted by a slew of steals, admitted after the game that the Braves had a little extra fire to knock off the Pirates — so much so that it translated to a riled up showing, at least early.
"The first time we played them we were just off. Everyone was off the same day and usually we're not like that," Jackson said. "Tonight we just really wanted to get after it and go and just got a little nervous, but we stuck through it."
Seniors Anna Deegan and Haley Hoffine each added seven points, but the Braves were the beneficiaries of a balanced attack in response to the Pirates' keying in on the pair. Junior Kennedy Bizzell also contributed nine points and hit three of her four free throw attempts and sophomore Kaleigh Taylor and junior Mikaela Bennett each scored six points with nine rebounds between them.
"They were really keying on our sideline break with Anna and Haley and we talked about getting ball more toward the middle," Oakes said. "We did a good job finding open space to get in there and grab some offensive boards and putbacks."
The Braves actually began the game with an 8-2 run, but Piper responded its own 10-2 run to take the lead in the final second of the first quarter.
After several Braves possessions ended with the ball being passed out of bounds, Hoffine knocked down a three-pointer and Jackson came up with a steal soon after to put the Braves back in transition.
With less than a minute left in the half, Deegan dished to Taylor to make it 19-18 at the break, the Braves' first lead since the Pirates took the lead at the end of the first quarter.