Retiring employee leaves behind generations of loyal customers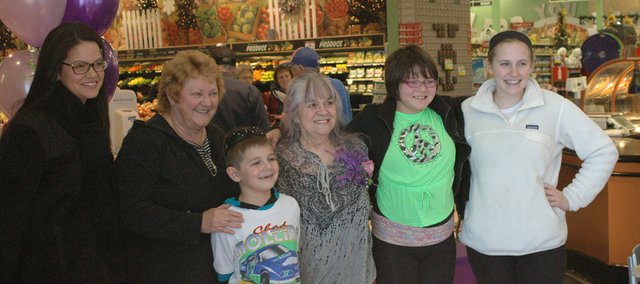 Gloria White didn't last more than a minute or two Friday at the Bonner Springs Price Chopper dining area before she was approached by another friend.
Just when she finished talking to one guest, she'd be off to get a hug and a picture with another co-worker of regular customer, even a few who somehow hadn't heard about her retirement party after 31 years as a cashier with the store.
"You're just supposed to be here, that's all there is to it," chided one woman who stumbled across the party.
White, known to many as "Glo," will work her last shift on Friday, Dec. 28, at the store where she has worked since 1981 and where she has developed relationships with generations of customers.
"I love my job, I love the people," she said. "I've seen the kids that used to sack for me bring their fiancés in, get married, bring their kids in, and now they have grandkids, so it's been generations."
Originally from the Strawberry Hill area of Kansas City, Kan., White moved to Bonner Springs when she got married and remained there for 15 years, raising two children. She and her husband then moved to Linwood.
She came to work at Price Chopper in 1981 when her husband hurt his back.
"I was going to work for six months, until he could go back to work," she said. "And here I am, 31 and a half years later."
When White started with the store, it was still Brewer's Price Chopper, owned and operated by the Nolting family and located in Downtown Bonner in Bonner Shops. It moved then to spot now occupied by Nuts and Bolts Truevalue Hardware on the southwest corner of Kansas Avenue and Kansas Highway 7, before moving to its current location at 501 Commercial Drive and eventually changing ownership to Queen's Price Chopper.
In her time at the store, White became close with the Nolting family.
"They are the friendliest, nicest people; they treated me like family… which is probably why I stayed as long as I did, because they really respected me," she said.
But she said the time was right to move on.
"I just love everybody, and I'm going to miss it a lot," she said. "But I've had both knees replaced, had carpal tunnel on both hands, and while I'm healthy, I want to be able to do stuff. My husband's retired, I'm going to go fishing when I want. I'm not going to get up at 4:15 (a.m.) any more."
White has worked the same shift, open to 3:30 p.m., for the last 20 years, and she said she won't miss days like last Thursday, when snow turned the 20 minute drive from Linwood into an hour-long trek.
She will miss the chance to visit with people.
"It's my kind of job, I get paid for talking to people, and I love to talk," she said.
And customers certainly will miss her gift of gab, if the constant stream of visitors Friday was any indication. They came to know her for her love of Kansas University basketball, and her seemingly contradictory love of purple — the school color of inner-state rival Kansas State University — including the purple streaks in her salt-and-pepper hair.
J.R. Nolting said when his family owned the store, they saw their employees as extended family, not just workers.
"Gloria fit that pattern very well, but she also was a very good teacher," he said. "She taught us the value and importance of people … it's all about relationships with people. And it all had a wonderful affect, not only on customers but on the people she worked with."
This may be why customers often would wait in her queue rather than move on to the next available lane, as her co-workers reported.
Regular customers have two more chances to see her in the store: today, Thursday, Dec. 27, and Friday, Dec. 28, her official last day.
She also gladly worked on Christmas Eve during her last week on the job.
"I love working Christmas Eve; that's the one day of the year that everybody's in a good mood," she said.