13-0 Bonner Springs girls find fourth-quarter fortune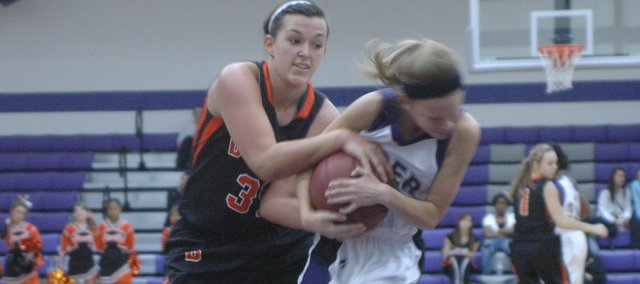 Watch the final play
With just 1.6 seconds on the clock, Piper prepared to pass inbounds for a potential game-winning shot. Watch here.
Take a deep breath.
The Bonner Springs girls basketball team trailed at halftime for just the third time this season on Tuesday. Three days earlier, it had needed a 19-3 run to erase a nine-point deficit against Spring Hill and win the Top Gun Tournament.
And now, on the road against a league opponent, the Braves were spent, physically and emotionally, for the better part of the game's first 16 minutes.
So when the Braves retreated to the visitors' locker room at halftime, coach Clay Oakes' instructions — take a deep breath — were both simple and practical.
"The biggest deal was having to come off of such an emotional win like we did at Spring Hill," Oakes said. "It's tough to bring those emotions back the next night."
Junior Anna Deegan, the Braves' leading scorer this season, put Bonner Springs' first six points on the board for an early lead. But Piper rallied back to capture a 13-9 lead after the first quarter while Deegan was whistled for back-to-back travels and missed shots at the foul line and under the basket.
Senior Erica Wilson brought the girls back, ending a more than six-minute scoring drought for the Braves, scoring five-straight points for the team in the second quarter.
The run was also powered by consecutive defensive rebounds from senior Emily Wilson.
"Erica Wilson was huge for us tonight," Oakes said. "She took over in the lane. If she wasn't able to get the ball and we weren't able to get the ball in there like we did, it could have been real ugly."
Senior Yessenia Hernandez put the Braves out front at 21-20 with 2:15 left in the fourth quarter —the game's tightest period as the two teams combined for just 10 points — after she converted a steal into a layup. Deegan and Hernandez drew three straight fouls on Sophomore Megan Woolley within less than a minute. Emily Wilson forced the ball loose on Piper's ensuing possession, also forcing Piper coach Shane Stout to burn one of just two timeouts his team had left.
With the ball back in Hernandez' hands, and with a 2-1 timeout advantage, Hernandez quickly drew three fouls from Junior Sydney Mansaw in just 45 seconds.
But Hernandez couldn't capitalize at the line, and senior Whitney Morrow regained the lead for her team after scoring over Hernandez in the paint.
Piper led 26-25 with less than 44 seconds to play. Erica Wilson missed a hook shot on Bonner Springs' next possession and the team had to foul to stop the clock.
Woolley missed her free throw attempt and the Braves found themselves with the ball again with less than 20 seconds left on the clock.
After calling a timeout, Oakes asked junior Haley Hoffine if she'd be ready to shoot the game-winner.
"I want it," she said. Hoffine previously scored two three-point shots in the third quarter against Spring Hill Saturday, and all her team needed Tuesday was two points to stay undefeated.
"She got the open look," Oakes said, "and it was true."
Bonner Springs wasn't safe yet. Still a one-point game, Woolley dribbled the ball out of bounds off Emily Wilson's shoe, maintaining possession for the Pirates.
It all came down to an inbounds pass with less than two seconds remaining.
With Piper ready to attempt one last shot, Deegan was there to intercept Woolley's pass. The buzzer sounded, Bonner Springs improved to 13-0, firmly entrenched in first place in the Kaw Valley League (7-0) with a 6 p.m. Friday road game against Bishop Ward (4-7, 3-4) to follow.
After shaking hands, the Braves took the two flights of stairs back down to the locker room, Oakes preparing to address his team before dismissing them for the night.
"Take a deep breath," he said.