Single mother says she feels blessed after receiving free car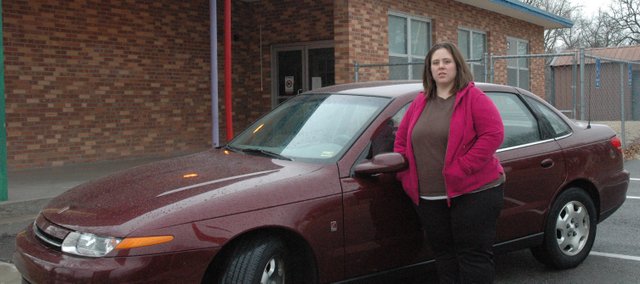 Erin Wren-Mahan recently received a holiday gift beyond her greatest expectations.
And now that she is realizing the benefits of that gift, she wants to express her thanks.
In December, the Bonner Springs resident learned she and her children, ages 9, 5 and 2, were one of about 20 families to receive a car through the local Cars 4 Christmas program. Wren-Mahan, a single mother who works at Bonner Springs Head Start, considers herself blessed to have benefited from the charitable program.
"I don't know if people really show them how much they appreciate it, but they have drastically changed my family's life," she said.
Wren-Mahan has been without a car for three years. She worked at Wal-Mart prior to being laid off in 2009, when she was pregnant with her third child. About the same time she started feeling sick, and in 2010, she was diagnosed with lower extremity lymphedema, which causes her body to swell from the waist down. She learned she was born with the disease, but her pregnancy had caused the disease to progress to a much higher level.
"I can't do normal things, like walking up and down stairs … so it just became hard to walk," she said.
At first, she drove her mother's van, but when it broke down a year ago, she was out of transportation entirely.
"We walked everywhere in Bonner Springs," she said. "We have been at the mercy of different family members and friends, different community members, who have been great. It was a touching thing that we live in such a small community that people still care. "
Limited by a lack of transportation and need for childcare, she worked as a substitute teacher last year until getting a position as the cook with Head Start this school year, the first blessing she received in 2011, she said.
As the weather got colder, she got on Wyandotte County's website to look into its Ways to Work program and saw some information about Cars 4 Christmas, an organization founded in 1996 by Terry Franz, a local car dealer. She applied.
"I was like, 'What the heck. If they tell me no, then that's fine,'" Wren-Mahan said.
Her application came to Chris Shell, coordinator for Cars 4 Christmas. Himself a 1983 graduate of Bonner Springs High School, Wren-Mahan's application stood out when he noticed her hometown. He inquired about Wren-Mahan with his nephew, who lives in Bonner and confirmed that she and her children walked around town.
"I like to help hometown people a little bit if I can," Shell said. "She worked for the school district and she lived in Bonner, so she had two pluses."
Mahan got a call saying she was a finalist for the program, and at 4 a.m. in early December she went to the Speedway Auto Group dealership in Lansing with the help of Martha Chandley, a teacher at Head Start. Though she had been selected to receive a car, DJs with radio station 101 the Fox interviewed her as if it wasn't a sure thing.
"They asked my kids about Santa Claus, and my 5-year-old told them 'Well, I don't really believe in Santa Claus,'" Wren-Mahan said. "And one of the men told them 'Well, I'm going to inspire you to believe in Santa Claus.'"
They then told her that on Dec. 21, she would receive a car. Wren-Mahan was reduced to tears.
"It just touched me because I know there's other people in (bad) situations, and they didn't have to choose me," she said.
The car meant for Wren-Mahan wasn't ready at the time, so she got a loaner vehicle until she received her 2000 Saturn in early January. She said for her and her children, the gift greatly impacted their outlook on life.
"My 5-year-old, her thing now is 'I don't believe in the Santa Claus that flies in the air, but I believe there are people who give things and have the Santa Claus spirit,'" Wren-Mahan said.