State recognizes
BSHS

social studies teacher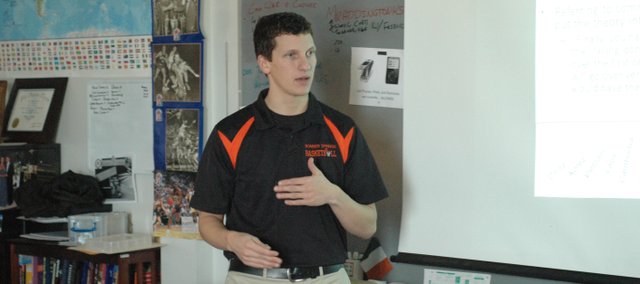 Andrew Addington admits that rather than posters of rock bands or movies, his walls in college were adorned with portraits of John F. Kennedy and Harry Truman.
So it's no wonder that the second-year Bonner Springs High School teacher is already receiving accolades for passing on his love of politics and social matters to his students.
"I do it because it's like the one core subject that's often overlooked, but I think it's the most important," he said. "I think that's where a lot of my passion for social studies comes from. There's a lot of professions you could go into out in the world and not use one of the cores, but everyone's a citizen of the country."
Recently Addington learned he was one of 31 teachers in the state to earn the Horizon Award for 2011, recognizing excellence in first-year teachers.
"It's just kind of an affirmation that I'm doing my job well … it's kind of nice to have that reassurance in year two," Addington said. "Already, I feel like this is what I'm meant to do."
Addington grew up in Olathe and it wasn't until he got to Kansas University that he decided he wanted to be a teacher.
"I'd always liked my subject area, social studies — politically minded family and stuff," he said. "But my whole life I'd had people telling me I should be an engineer and make money."
After an internship at Honeywell underscored that field wasn't for him, he went into education. Addington said one of his professors further inspired him to teach.
"(He) really showed me that my love for social studies doesn't have to be a 'dork' thing, I can project it to the kids and eventually, a few will find an interest in stuff I find interesting," he said.
After graduating, he wanted to stay in area, despite a lack of teaching positions at the time. Though he was a product of a larger school district, he said he quickly saw the benefits to working in a smaller district like USD 204.
"I like the close-knit nature of the Bonner Springs community, and it's reflected in the schools," he said. "The idea of one middle school, one high school — I know all the teachers that my students have previously had."
His student teaching experience was with seniors, but in his first year, he taught both seniors and freshman and discovered he may have found his niche with the younger students.
"There's an energy to the younger high school kids — it's like a nervous energy," Addington said. "They're not sure what high school is going to be like, they're not sure what their role is or how they fit in, and I feel like my classroom tries to empower the student as much as possible.
"Which is kind of fun, then, to watch these 14-, 15-year-old kids figure out that what they think matters, what they say matters, and that learning can be this two-way street. It doesn't have to just be me feeding them stuff, it can be like a dialogue between us."
Addington teaches four courses of American History as well as a class called Contemporary World Issues, including half current events and half global crises, covering topics such as famine, poverty and genocide.
"That's my fun class, because talking about some of those things is a little uncomfortable, but the kids, for the most part, genuinely want to be there," he said. "So you're getting to hear what the future of America really thinks about some of these really pressing issues. … I think I get just as much out of teaching sometimes as the students do, which is kind of cool."