Four Braves commit to football programs on Signing Day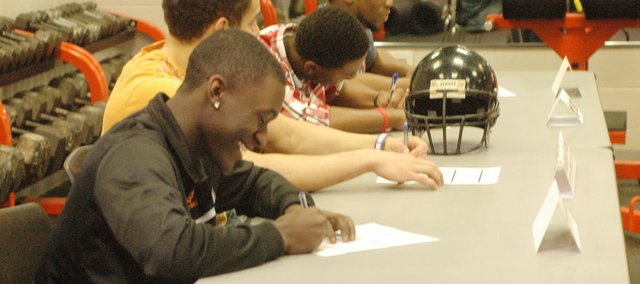 Photo Gallery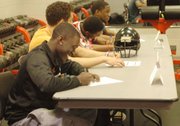 National Signing Day at Bonner Springs
Four Bonner Springs football players and one soccer player signed letters of intent to continue their athletic careers after graduation. Spencer Bush signed to play soccer at William Jewell College in Liberty, Mo. Stevie Williams (Butler Community College), JaVante Young (Fort Scott Community College), Daemon Franklin (Highland Community College) and J.J. Jackson (Coffeyville Community College) will be back in the weight room one last time this summer to prepare for the start of their collegiate careers.
The smile wouldn't leave Stevie Williams' face last Wednesday morning.
Maybe the Bonner Springs senior thought there was still a camera pointed at him. They were, to be fair, everywhere in the school's weight room. Parents, friends, coaches, media. All had their cameras and cellphones trained on the four Braves football players who signed letters of intent to continue their careers after graduation.
And there they sat, beaming, despite it being 8 a.m. and — for Williams, J.J. Jackson and Daemon Franklin — just hours after the boys basketball team competed at Piper the night before.
"It's a huge relief now not to have to worry about deciding where to go," Williams said.
Williams, a wide receiver for the Braves, signed to play at Butler Community College, just weeks after visiting and just one year removed from choosing to pursue college football over basketball.
In 2011, Williams led the 6-4 Braves with 50 receptions for 930 yards and 13 touchdowns.
JaVante Young had further incentive to celebrate: He signed on his 18th birthday. Young, a linebacker with the Braves, signed to play for Fort Scott Community College.
"I'm a little light headed right now," he said.
Young plans to play special teams and linebacker at Fort Scott, and while the team's coach told him he might not start right away, Young will have every chance to contribute.
Young said he prided himself on being one the Braves' hardest hitters, finishing second on the team with 45 tackles.
Two years and then Division I, that's the plan for defensive back Daemon Franklin, who signed to play at Highland Community College. Franklin visited the campus two weeks ago before making his final choice. A new coaching staff took over late last year, opening up new opportunities for the team's incoming freshmen.
"For a second there it was a little overwhelming," Franklin said. "But when I sat there at the table, I became clear headed."
Signing Day marked the culmination of a narrowing down of two programs for Franklin, who ultimately chose Highland over Dodge City Community College.
"Go somewhere where you know they want you there," Franklin remembers his mother advising him.
All four athletes will compete in the Kansas Jayhawk Community College Conference, meaning they'll soon know each other as opponents rather than teammates.
"We finally get to see what everybody is made of," Young said.
"I think it's going to be fun to play against them," Williams added. "It'll be great to see them."
Franklin already thinks he has an advantage in that he said he already knows his soon-to-be former teammates' tendencies. And he already knows who he most looks forward to playing.
"I want to guard Stevie," he said, smiling.
J.J. Jackson, the Braves' leading rusher in 2011, made his college selection the night before signing day, ending what he called a stressful last couple of weeks.
Like Franklin, Jackson will also be stepping into a program in transition and expects to compete for a starting position right away.
"I hope to play right off the bat," he said.
Jackson ran for 1,549 yards last season (7 yards per carry) and 24 touchdowns. He also caught 21 passes for 203 yards and two touchdowns, including a 77-yard catch and run.
Looking back, one of the memories Jackson said he's going to think of often will be having been able to play alongside his brother, sophomore quarterback and defensive back Jourdaine Jackson.
"Not a lot of people get that opportunity," he said.
Jourdaine still has a few years until he'll have to decide which sport to pursue and, still, which college at which to pursue it.
"Hopefully in two years we can have another one," their mother, Dawn Jackson, said.
It was a big day in the weight room, coach Lucas Aslin said. He chose the setting for the players' signing day because it was where so many hours of conditioning and preparation took place.
And for one more summer, it will be where the four seniors work out one last time, trying to get their speed and strength just right before departing for college. It will also be a chance, Jackson said, to show the team's incoming freshman where the sport can take them.
"You've got to understand," Aslin said beforehand, "once you sign, the work begins."