Basehor-Linwood boys defeat Bonner Springs, win
KVL

outright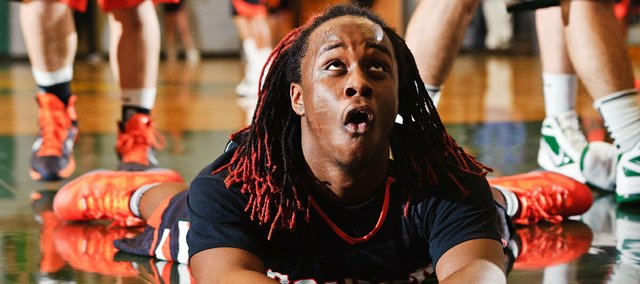 Both teams said they wouldn't, but it's hard not to look ahead at a potential Friday night rematch with Basehor-Linwood and Bonner Springs.
For the Braves (15-5), coach Andrew Price said, the final game of the season against the Bobcats (17-3) had nothing to do with who won, but about how well the game was played.
"People in the stands, I think they respect how hard both teams were playing and still having good sportsmanship with each other," Price said.
By the end of the 62-50 Basehor-Linwood victory, Bonner Springs was the same few steps behind as they have recently been.
Without all of the Bobcat free throws down the stretch, this was a moderately close game, but the Braves were unable to overcome the size and shooting disadvantages.
But for the Bobcats, this was just another game with nothing to lose.
"We just didn't set ourselves up to make this any type of season-ending game," coach Mike McBride said.
The players wanted to win for senior night, but even though there was little to play for, playing poorly wasn't a good idea heading into postseason.
"We wanted to take momentum into sub-state," Basehor-Linwood senior Colin Murphy said, "not take a step backwards."
The display both teams put on Friday night was worthy of a season-ender against rivals.
The Bobcats' Ryan Murphy had a game-high 27 points while B.J. Watson led the Braves with 20. There was no shortage of effort on either side and it could be even more intense if they meet in sub-state.
"I just have a lot of a respect for their seniors and how hard they play," Price said. "After they got that dunk, just as an example, we had a breakaway and they were just right back on defense."
Basehor-Linwood will face Perry-Lecompton on Tuesday while Bonner Springswill essentially have a repeat of last week, starting with Bishop Ward. Pending any huge upsets in sub-state, both teams are aware of the looming rematch.
"Between now and next Friday, we have to find a way to put something magical together," Price said.
McBride doesn't think like that. He said he intends to simply play basketball the way they have all season and let that be the determining factor.
Since winning the 4A championship in 2009, McBride said that some people have felt like the last couple years have been thrown away. Not this year.
"I feel a lot more focus out of this team that I've had in a while," McBride said.