BSHS

girls win in low-scoring affair at Basehor-Linwood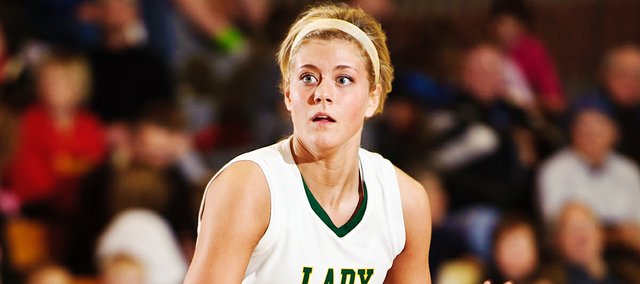 At some point, the law of averages was going to take over.
Between the Bonner Springs and Basehor-Linwood girls basket ball teams Friday, there were plenty of open shots to go around in the first half.
Going into the locker room with a 14-13 game seemed unreal.
The coaches really couldn't say much to their players except to be patient.
"We weren't doing anything wrong," Bonner Springs coach Clay Oakes said. "It was one of those halves where we couldn't find the bucket."
Basehor-Linwood (8-12), despite the poor offensive output, was in a good position to keep up with the Kaw Valley League champs.
"I told our kids that we don't want to go out and try to score 70 against Bonner," Basehor-Linwood coach Noah Simpson said, "because we're not going to do it. If we get into a running game with them, they're good."
But that's what happened and senior night for the Bobcats' Maggie Hattock, Cara McCarty and Bailey Hooker was spoiled.
At the start of the third quarter, the Braves' Cassady Holloway hit a three that trickled down to her teammates' shot-making ability.
The Braves (20-1) went on to make quick work of the Bobcats, 44-24, led by Yessenia Hernandez's 19 points.
Heading into sub-state, the elated Braves received a couple days off before defending the No. 1 target on their back against Perry-Lecompton Monday.
"You guys got tonight and tomorrow to celebrate then it's back to work," Oakes told his team after the game. "Everything that we've done so far is a closed chapter. It's time to start a new chapter come Monday."
In preparation, Oakes said there isn't much he'll need to adjust.
Simpson, on the other hand, has to improve his team's focus the next couple days.
He has noticed that his Bobcats will get distracted and momentarily lose their grip on the game.
Against Bonner Springs, if Basehor-Linwood hit a big shot, it would lose defensive intensity. Reversely, if it gave up a big shot of defense, the offense would sputter.
"We have to cut those one or two plays in each quarter that we take off," Simpson said.