Telling a story: teachers ditch books for new method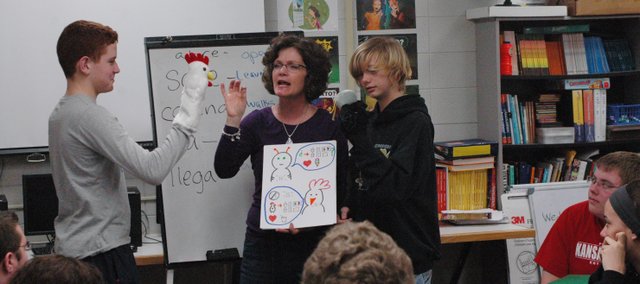 Susan Swabb is teaching her Spanish 1 students some basic Spanish phrases — but without the aid of a book.
Instead, the students are using puppets and "reading" from a cartoon storyboard.
Spanish classes at Bonner Springs High School this year definitely have taken a new direction.
Teachers Swabb and Kelly Hoopes use a technique — Teaching Proficiency through Reading and Storytelling — that's akin to how young children pick up English vocabulary and grammar.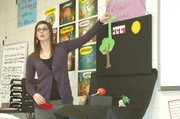 "Sometimes we tell the story to the kids, sometimes we ask the story from the kids and use their opinions and details to add to the story, sometimes we read the story," Hoopes said. "But through the stories, we are repeating the same structures over and over and over, so they can be internalized. The same way that you teach your children by repeating things over and over to them, that's how we're trying to teach our students."
Last summer, the two teachers attended a two-day conference, where they were the students. The woman leading the seminar demonstrated the method with French. They then got to practice teaching.
Swabb and Hoopes were sold.
The two teachers want their students to be fluent in Spanish.
"I don't want kids to go through Spanish 1, 2, 3, 4, and then they can't go out and carry on a conversation with their neighbor," Swabb said.
At the conference, teachers were told that they didn't have to use the method at all times — it could just be once a week, or for 10 minutes a day.
"Kelly and I did not do that," Swabb said. "We dove in head-first; we said 'Here we go! Let's try it; let's do this thing."
Swabb said one study found that 100 phrases make up 85 percent of Spanish.
"That's quite liberating as teacher because … if I can drill those into the kids by the time they leave Spanish 4, they're going to have a good handle on the language," Swabb said.
With the former way of teaching, a teacher might say a target word 12 to 15 times each class period. But now, specific phrases are repeated 50 to 80 times.
"With that much input from us of those phrases, it helps them get it," Swabb said.
Following a traditional approach, a foreign language teacher might try to teach students 2,000 to 3,000 words or phrases in a school year.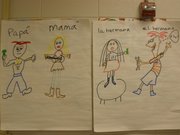 "Whereas we're focusing more on maybe 200, but teaching them really well, and teaching them the most useful phrases so they can actually put them together and communicate with them," Hoopes said.
Sometimes they build a story and ask the students to fill in the details — which Swabb and Hoopes say makes the students buy into lessons more.
"That becomes so much more fun, because they give the input," Swabb said.
They still discuss spelling and grammar rules, but the rules aren't the main focus. Instead, through a sort of osmosis, the students learn what sounds right.
"(In English), most high school students can name what a subject, verb, adjective are, but they might not know what the indirect object pronoun is … they just know what sounds right," Hoopes said. "This is the same thing."
Both teachers whole-heartedly believe in the method. And they're already seeing results.
"Pretty much everybody passed Spanish 1 in the old days, the old way I taught, because if you turned in enough assignments, you could pass," Swabb said. "But now, I'm requiring that 'Yes, you have to be able to speak Spanish and I'm going to record you speaking Spanish.' They're more challenged."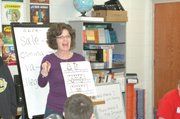 Almost all students are passing, and Swabb and Hoopes say Spanish 1 students are now speaking with a fluency they formerly would see in Spanish 3 students.
The new method requires much more energy from the teachers, Swabb said. For example, there is no sitting down while students fill out a worksheet. But it's worth it.
"It's more fun for the kids and us, and they're getting much more out of it," Hoopes said.