Judge rules to allow recall election for Basehor mayor; Hill files appeal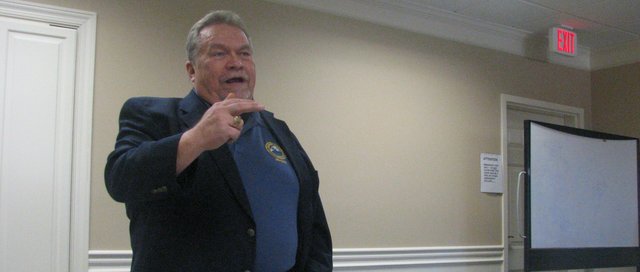 Related document
Wednesday update
Jeffery Sutton, attorney for Basehor Mayor Terry Hill, said Wednesday morning that the mayor late last week filed an appeal of the district judge's decision to allow his recall election to proceed.
Early this week, the mayor also filed a motion requesting a stay order from the district court, which would stop Hill's recall election from proceeding until after the case is heard by the Kansas Court of Appeals. A hearing on the request for a stay order is set for Thursday, Jan. 26.
Original story
Leavenworth County will proceed with a Feb. 28 election for the recall of Basehor Mayor Terry Hill after a judge's ruling Thursday afternoon.
Hill said Thursday that he plans to appeal the ruling, however.
Leavenworth County Clerk Janet Klasinski said Thursday she would move ahead with plans to place Hill on a recall ballot for Feb. 28 along with Basehor City Council members Dennis Mertz and Iris Dysart, unless she receives a court order to stop.
Klasinski has said she would need to begin preparing absentee ballots for the recall election on Friday. Hill said he was not sure how his appeal would affect the election process, but more important was making sure that he was not placed on the ballot improperly.
"I don't care how long it takes them to get it right," Hill said. "Just get it right."
Hill filed suit last month to challenge the validity of his recall petition.
Though he ruled for the recall election to proceed, Leavenworth County District Court Judge David King did determine that two of the four grounds cited in the petition to recall the mayor were not sufficient, on their own, to prompt an election. Those two invalid grounds — accusing Hill of failing to "preside at all meetings" and of misusing public funds in connection with purchases made with a city credit card — cannot be posted at recall polling sites, the judge ruled in a written opinion.
The accusation that Hill had "failed to preside" at all city council meetings, which cited one instance when Hill left a meeting before it ended and allegedly shouted "I resign," did not provide any evidence that the mayor had a pattern of failing to preside at meetings, the judge wrote, and the mayor is not forbidden from being absent on occasion.
And the allegation regarding the mayor's purchases with a city credit card did not contain evidence that he had misused public funds, the judge said. The purchases cited were a scanner and coffee maker that the mayor had delivered to his home and meals that he purchased near his place of work in Johnson County. But just because he sent items to his home and purchased meals in another city, the judge wrote, did not mean that he misused public funds.
"To be legally sufficient, the facts in support of the grounds for recall must contain more than innuendo of misconduct," the judge wrote.
Hill has said that the purchases in question were for his office at Basehor City Hall, and he'd had them sent to his home because he bought them with his personal Amazon.com account in order to receive free shipping. He also said the meals he'd purchased with city funds were in connection with city business.
The judge ruled that the other two grounds for the mayor's recall — accusations that Hill modified the contract of former city administrator Mark Loughry to provide additional health benefits for his family and authorized a $50,000 severance check for Loughry, without city council approval for either action — would stand as sufficient, meaning the election should continue.
But Hill said he believed that because the judge threw out two of the accusations against him, the signatures on his recall petition were invalid. Some residents may have signed the petition because those accusations were listed, he said.
"Who knows?" Hill said. "Those signatures shouldn't count."
Basehor attorney Jeffery Sutton, representing Hill, made a similar argument during a court hearing Wednesday.
Hill also said he disagrees that the remaining two accusations are valid. The mayor has said that city council members authorized the additional health benefits for Loughry's family, and that the severance payment to Loughry was provided for in the former administrator's contract.