Family links: Owner of new Basehor sausage business takes up grandfather's hobby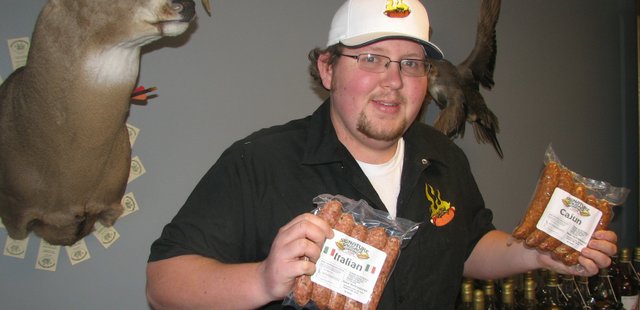 For years, family and friends used to tell Steve Sessions' grandfather that he should sell his homemade sausages for a living, Sessions says.
That never happened. But when Steve found himself without a job after a layoff about four years ago, he decided to use his family recipes and give it a shot himself.
"You always have that thing in the back of your head, what you always wanted to do," Sessions said. "You know: 'If I had a chance, I would do this.'"
When he couldn't find another job in mechanical engineering after he was laid off, Sessions decided that chance had come. He emptied his savings and his retirement fund and, at age 23, created the Signature Sausage Company, using the recipes he'd learned while helping his grandfather make sausages as a child. His decision to jump into the sausage business has now brought him to Basehor, where the company is opening its first retail store.
Since the business got off the ground in early 2009, it has operated mostly out of concessions trailers, selling sausages at fairs, sports games, music festivals and other events as far away as Colorado and South Dakota, Sessions said. In September, it finished up a year-long contract serving food at Fort Riley, and in October the business moved to its new headquarters at 14500 Parallel Rd., Suite B, in Basehor, "right across the street" from where Sessions grew up in the Piper area, he said.
Since then Signature Sausage has focused on processing deer meat for hunters, but the company will launch a full-fledged retail store on Feb. 1, Sessions said. The store will sell about 40 varieties of packaged pork and beef sausages, as well as marinades, sauces, rubs and even olive oils infused with jalapeños, garlic and other flavors.
The company's foods won't be as cheap as standard grocery-store fare, Sessions said, but it will be worth it.
"We don't sell cheap products," Sessions said. "We sell stuff that, you're going to want to go home and enjoy a meal, not just fill yourself up."
The company's expansion to retail sales comes after Sessions kept the operation deliberately small for several years, he said, as he tested out variations on his family recipes and saved up to open a store someday. During the business' first two years, Steve and his wife, Stephanie, would head out on the road for two or three weeks at a time with their concessions trailer, selling sausages at any event they could find before heading back home to the Piper area to restock.
Now its first store is open, Sessions said, he hopes for the business to grow fast. He expects to draw customers from around the Kansas City area, he said, with hopes that visitors to the Village West area might stop by the store just off Kansas Highway 7. He sees more stores and more widespread concessions operations in the company's future as well.
"This is the very first footprint," Sessions said.
After the store's opening, the company will also sell its products online at its website, signaturesausagecompany.com, Sessions said.
Once deer season comes back around in the fall, the store will continue to offer processing services for hunters. Sessions said he would make any of the store's regular sausage offerings with hunters' deer meat, producing as many as 10 types of products from one deer. Employee Josh Blanks said the shop took care to ensure that hunters received meat only from the carcasses they brought in, rather than a mishmash from different animals they might receive at other businesses.
"You know it was your meat, where it came from, and everything," Blanks said.
Though the store's official opening isn't until Feb. 1, it has begun selling a few of its products to people who have come in based on word-of-mouth recommendations. Basehor resident Carla Crawford, who organizes the Basehor Farmer's Market as director of the Basehor Historical Museum, said her family had sampled several different varieties of bratwurst, including bacon, apple and pineapple flavors. Their favorite, she said, was the somewhat unconventional pineapple flavor, and they were looking forward to tasting more.
"We've got to try them all," Crawford said.
Sessions said he was convinced that word-of-mouth from impressed customers would result in a steady flow of business for the shop.
"I want them to say, 'Wow, that's the best I've ever had,'" Sessions said, "not, 'Oh, it was OK.'"
— Find more information about Signature Sausage Company on its Facebook page.