Former
BSHS

teacher surprised by journey to self-discovery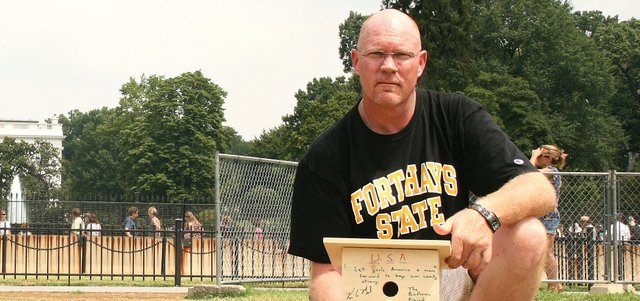 If you find a small, wooden birdhouse in a tree or park in Texas or California or even Pennsylvania, there is a good chance it was left there by Kris Munsch.
Munsch, a Lenexa resident and former industrial technology teacher at Bonner Springs High School, returned Jan. 6 from a six-month journey across the country, which he undertook to heal from past tragedies in his life. During his trip, he visited all lower 48 states, leaving as his calling card of sorts a birdhouse in a random outdoor locale of each one.
"There's 48 birdhouses all over the country," Munsch said, noting that he built each birdhouse before leaving it and wrote messages of hope on each one for people to find and take inspiration from.
A hard road
As the subject of the book, "The Birdhouse Project," which Munsch co-wrote with fellow BSHS teacher Jeff Fouquet in 2009, birdhouses represent the process of healing that Munsch says can only be accomplished through a step-by-step process. Munsch's own steps to healing involved quitting his job at BSHS, selling his house and putting almost everything he owned in storage. He packed a bare minimum of essentials: items such as a small suitcase filled with a week's worth of clothes, a small cookstove and a sleeping bag. He took out all the seats but the driver's in the new Honda Element he had purchased, planning to sleep in the back at night. The Element he turned into a visual ad slogan, painting it and decking it out with inspirational messages like "Don't let life pass you by," just as he did to the birdhouses he left along the way.
He hit the road on July 4, hoping his journey would show him how to not be defined by losses in his life that included his son, Blake, to a car accident in 2005, and his second wife, after they divorced in 2011. He said his journey took a looping pattern — he would be on the road for about a month at a time, and then return to Lenexa to stay with friends and unwind for a few days. Then it was back on the road again.
"It was a lot harder than I thought it would be," Munsch said. "Being on the road every single day was very taxing … I was either driving, trying to find a place to stay or meeting people. So it was 24 hours a day work."
Finding inspiration
Munsch says the experience of essentially living out of a car for six months was a "humbling" one, and there were many times he considered turning around and going back to the stable life he had left behind. He often shared his doubts on a blog he used to chronicle his journey.
"Why am I doing this?" was a question Munsch said he frequently asked himself. "Am I really going to overcome the tragedies of my life by going around the country?"
Still, he said he was often buoyed and uplifted by the people he met on his journey — usually while he was filling up at a gas station. Curiosity stirred by the messages on his car often led to inspirational conversations about life that Munsch said "empowered me to keep going."
Unexpected lesson
And what was the main lesson Munsch took away from his journey? Well, he says it wasn't exactly one he expected to find when he set out.
"You know, what's really interesting is I literally set out thinking in my mind that, you know, I don't want to be defined as this person," Munsch said. "And what really I ended up learning was, that is who I am. I am defined by that. I'm defined by the losses I've had in my life, but I'm not confined by them. They don't confine me and say this is going to hold me back."
He says having a taste of what it's like to live with almost nothing has taught him what he's capable of, as well.
"If I had nothing, what would I rebuild from it? I tried to put myself there as much as I could to really explore how strong am I; how much can I endure?" Munsch said.
What's next
While he is still settling in to a new life outside of a Honda Element, Munsch says he's also found some clarity as to what his next move should be. For him, absence has really made the heart grow fonder when it comes to his former life as an educator.
"I miss education," he said. "I want to go back into education."
And he isn't wasting any time. Munsch says he plans to pursue an administrative position and has already submitted his resume to several school districts in Kansas — including his former home base of Bonner Springs-Edwardsville.