Kansas has become a 'growth market' for lacrosse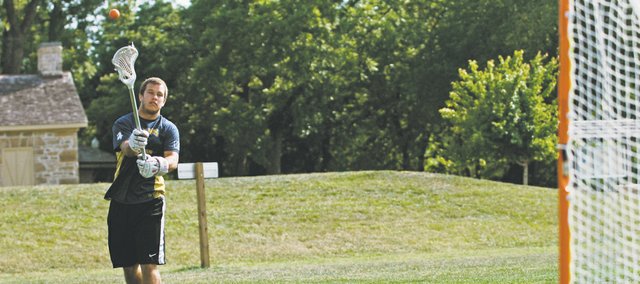 Photo Gallery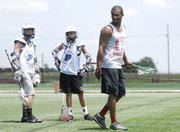 Lacrosse pro Kyle Harrison hosts camp in Kansas
One of the most decorated lacrosse players in recent memory returned to Overland Park to host a lacrosse camp for youth and high school players from the area. Lacrosse is the fastest growing sport in the country and Harrison said Kansas is one of the "growth markets" in which he has hosted camps in consecutive years.
It is baking hot at Garrett Park in Shawnee, where a teenager sneaks a drag from a cigarette behind his truck in the parking lot and a mother pushes her child on a swing 50 yards away.
Over on field three, flanking 47th Street, T.J. Phillips stands before the orange lacrosse goal he hauled to the park. Phillips, a junior at Mill Valley High School, cradles his stick in front of the net as his little brother, Tanner, takes a large plastic bucket of lacrosse balls, spills its innards on the ground and begins scooping.
One after another, he lobs yellow, orange, red and white hard rubber balls to T.J., who rips shots, sometimes overhand, others in a sidearm cranking motion, that smack the back of the net on most attempts. This being practice, after all, they also sail beyond the target, finally resting on a bank before the road.
Later this month, Phillips, who plays for Blue Valley West's club lacrosse team, will travel to Boulder, Colo., for the 205 West Camp, where he will be among the top 205 lacrosse players west of the Mississippi competing in front of NCAA lacrosse coaches and recruiters. The evaluators will sit in lawn chairs and jot down terse assessments of the players' athleticism, size, stick skills and intelligence.
Phillips — also traveling this summer with the KC Orange, a youth lacrosse showcase team, and playing more summer league with ESB Lacrosse — is among a growing crop of area youths picking up the game at an earlier age than ever before. A sport long associated with the privileged pockets of the East Coast, the "fastest game on two feet" is also the nation's fastest growing sport.
A face-off specialist, Phillips earned All-Metro second-team honors in 2011 after scoring 26 goals as a midfielder and finishing the year with a 70.1 face-off winning percentage. Though the game is still relatively young in Kansas, Phillips has played lacrosse since he was in fourth grade. Hints of a southern twang remain from his birth in Georgia. For a time, Phillips' family moved from Georgia to Michigan, California, Ohio and New Hampshire before settling in Shawnee as Phillips started second grade.
Of all the places Phillips has called home, Shawnee was where he fell in love with lacrosse. A son of a friend of Phillips' father played for Blue Valley West when Phillips was a fourth-grader. Pretty soon, his curiosity led to learning the game on middle school fields and YouTube videos. By seventh grade, Phillips traveled to Baltimore to compete in a youth tournament.
"We weren't very good because we were from the Midwest," Phillips said. "But there were some great players out there, and it was a lot of fun to go see them. The game is played a lot faster there."
Phillips is one of three Mill Valley students who also call themselves Blue Valley West Jaguars lacrosse players. Junior Chase Battes picked up the sport in Ohio before moving to Shawnee, and sophomore Drew McGee got his start practicing alongside Phillips at Garrett Park. Phillips said Mill Valley math teacher Alex Houlton was once on the St. Thomas Aquinas lacrosse team's coaching staff before coming to Mill Valley. He said Houlton discussed the possibility of starting a team at some point, but for Phillips, Blue Valley West will have to do for the time being.
At this point, lacrosse is beginning to shift from novelty to a pastime on par with other school sports. But those within the game in Kansas say it becoming a scholastic sport is still very far off. And while the pool of interested players continues to swell, the demand for knowledgeable coaches to instruct them grows in concert.
'We're getting kids in college now'
Surely the 2011 opening of The StickStop in Mission is yet another signal of lacrosse's growing popularity in and around Johnson County.
Dusty Kilgore works part-time at the shop, custom stringing colorful heads and recommending the latest helmets, pads, cleats and laces. Before graduating from Shawnee Mission South in 2000, Kilgore suited up for the school's first club team, where he developed a knack for just about every position and a love for the game that keeps him coaching and playing to this day.
Most recently that meant co-running a spring lacrosse league for fourth- through eighth-graders in the SM North, SM Northwest and Mill Valley area. With the backing of the Johnson County Parks and Recreation District, the participants practiced and played the game, learned of its origins and even spent time alongside high school players.
"My goal is to give these kids the best possible opportunity that I never had out there," Kilgore said.
Opportunities to play in front of college recruiters didn't exist when Kilgore played.
A contingent of Kansas State University alumni, who began playing the sport on the college's club team, would help create club teams at Shawnee Mission South, Blue Valley West, Blue Valley North, St. Thomas Aquinas and Olathe.
Today, Kilgore said, there are up to eight more programs in the works for the next year, including several in the Northland.
About five years after Shawnee Mission South inaugurated its varsity club team, SM East followed with one if its own. This year, SM East became the first Kansas school to knock off powerhouse Rockhurst, perennial state champions and the oldest club in the area. Still, Kilgore said, only having two Shawnee Mission schools after 12 years is "unacceptable."
Lacrosse becoming a scholastic sport is important to its continued growth and viability in Kansas, but Kilgore said that is still a ways off. Missouri, with at least a decade more of experience and dozens more programs, still plays club lacrosse.
But the sport's progress has suggested nothing but moving in that direction one day. Last year, area club teams broke out of the Missouri State Lacrosse Association to form the Lacrosse Association of Kansas City. The association's debut season culminated in the championship game being played at Livestrong Sporting Park in Kansas City, Kan.
T. J. Phillips missed playing at the stadium by just one game but was able to attend because of his All-Metro selection.
"I thought it was good to help grow the sport by playing in a stadium like that," Phillips said.
The sport's growth is also evident in the abilities shown by players at increasingly younger ages. Kilgore looks at the kids in his youth league and the players on the True Lacrosse (another area showcase league) teams he's helped coach and sees skills exhibited by fourth-graders that were uncommon on the high school field not long ago.
"We're getting kids in college now," he said.
'The sport's done everything for me'
Last month, more than 50 youth and high school players stood on a field at the Overland Park Soccer Complex and listened to instructions from one of the game's best players.
Kyle Harrison, an NCAA national champion at Johns Hopkins and the first overall pick in the 2005 Major League Lacrosse draft, returned to Overland Park for the second annual Playmaker Lacrosse Camp. Harrison and his cousin, Maxx Davis, also a former D-I player at the University of Maryland-Baltimore County, started touring lacrosse "growth markets," teaching the game to players and coaches in places like Kansas, Kentucky, Colorado, Texas and California.
Harrison said a common thread of growth markets is that young players are still discovering the amount of time and effort that goes into being good at lacrosse. It is not enough to be interested in the game or to try to shoot the fastest or flashiest.
"I think in the growth markets it is still so fun and new," Harrison said. "They don't get that in New York and Philly. Those kids are training for lacrosse and take it as seriously as football or basketball or any other sport. We eat, live, breathe this. This is what we do."
Harrison said turnout this year remained steady with that of last summer, adding that he wanted to keep the numbers between 50 to 75 so as to be able to spend time personally instructing each "shark" (high school athlete) or "minnow" (youth athlete).
That meant players needed to work on their shooting for an hour and a half instead of standing in front of the goal trying to hurl a handful of shots as fast as they can. Or goalies stepping into their saves rather than holding their stick out and hoping to make a stop.
Harrison moved to Los Angeles four years ago after being traded to the MLL's Los Angeles Riptide. Soon after, he left the league to help form a new touring pro lacrosse league, LXM Pro, which could offer greater flexibility in wearing sponsored equipment. And while the man whom legendary Johns Hopkins coach Dave Pietremala called the best to play for his program now lives in L.A. and tours the country to play with some of the sport's best players, he has visited Kansas twice now because he sees the sport growing here and feels obligated to help it along.
"I think in our sport, anybody who's played at any level is very passionate about helping the game grow," Harrison said. "The sport's done everything for me — from getting me into college to now moving across country and traveling the world to play and promote this sport. It's my duty to make sure that the sport continues to grow at a fast rate."
Today that means finding enough knowledgeable coaches to teach the sport to the growing number of youths interested in it. It also means — and this could be the difference in lacrosse becoming a scholastic sport in Kansas — that athletic directors and coaches of other sports become more accepting.
Maybe seeing students get their college educations paid for by playing the sport will hasten its acceptance in high school athletic departments. That kids from Kansas are now realizing that being good at lacrosse is not solely an East Coast birthright may expand that pool of scholarship winners in the years to come.
"It just comes down to wanting it," Harrison said. "If you go to this camp or another one like it, you can say, 'I went and talked to pros and college stars. I know the steps they took and now I'll have a shot at it.' As long as you put yourself in the ring and give yourself a shot, that's all you can hope for, right?"