Rival paths cross as summer football gets underway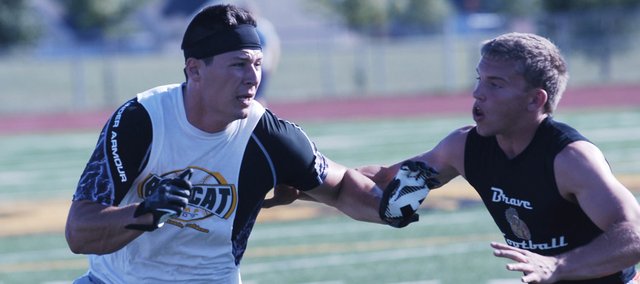 Photo Gallery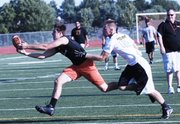 Summer football kicks off in Basehor and Bonner Springs
Each with their own sets of expectations and challenges ahead, Basehor-Linwood and Bonner Springs embarked on the summer preseason football slate with early practices and a weekly 7-on-7 league.
When Bonner Springs last met Basehor-Linwood on the football field — a 69-26 Bobcats victory in Sept. 2011 — the disparity in size and strength prompted a blunt assessment from Braves coach Lucas Aslin.
"We got crushed," he said.
That's how Aslin remembered it as his team began summer practices and June's annual 7-on-7 league this week. After the loss, which also served as Jordan Jackson's first game at quarterback, the Braves (6-4 in 2011) won five straight. But in the first round of the 5A state tournament, they again found themselves overmatched, this time against a Gardner-Edgerton team that ran wild for a 76-40 victory.
And Aslin could be forgiven for not sweating his team's size and strength this season (and beyond, for that matter). At the youth level, Aslin saw this year's middle school strength and conditioning camp grow from a dozen to more than 50 participants. On the lines, senior Tyler Howell (6-8) and junior Kyle Dumler (6-4, 270 pounds) aren't likely to get pushed around this year.
"We can be good, we just have to work," said Howell, who joined the skill position players for last week's pad-less practice.
Dumler turned heads in the weight room last month when he pulled off a 585-pound squat, the first such feat Aslin had seen in a long time.
"If his tape halfway matches his ability, he will be good," Aslin said.
Helping Jackson, then a sophomore, along as he became comfortable under center last season was the play of his older brother, J.J. Jackson, at running back and wide receivers Stevie Williams and Joseph Dooley.
"They made my job pretty easy," Jackson said.
Those three gone, the team is Jackson's to lead.
He'll have a more balanced core to throw to. Senior Mason Roberts will lead a large group of receivers while junior Jared Knerschield will compete to fill the void left by the elder Jackson's graduation.
Jackson said the strength of the Braves' passing attack this year will rely on that depth, adding that the receiving corps is developing a knack for crisp route-running and an ability to haul in passes.
"It's looking really good," Jackson said. "We've got the pieces coming together. I feel like we're going to make some noise."
The team was 5-2 with Jackson as starting quarterback. As a sophomore, he threw 17 touchdowns and just one interception, completing 59 percent of his passes. Against Basehor-Linwood in the first week of 7-on-7 football, Jackson again displayed a proclivity for airing it out, throwing deep downfield on several occasions, and buying time with his feet to set up throws on the run.
Despite departures, continuity prevails at Basehor-Linwood
The more things change at Basehor-Linwood, the more they stay the same. Several of the school's most decorated athletes are gone after quarterback Colin Murphy, wide receiver Ryan Murphy and linebacker Jesse Hiss graduated, ending careers in which they led the Bobcats to their highest peak.
Still, four linemen return, including a three-year starter at center, while Basehor-Linwood will get one more year from its leading pass catcher and rusher, respectively.
Ben Johnson, the 6-6 incoming senior tight end who committed to Kansas University earlier this year, returns after leading last year's 10-1 squad with 56 receptions. Johnson towered over his defenders on Monday, not so much leaping for the ball but hopping for it.
Delivering the ball on Monday was the new-look tandem approach implemented by coach Steve Hopkins. Seniors Tanner Garver and Zac Hevel — also baseball teammates — will not so much compete for the starting job as rotate at the position, each bringing something different to the table.
"We're going to share it," Hopkins said. "I told them, 'let's see what routes you throw best, what you're most comfortable doing."
And when they're not throwing, Hopkins said, both will remain on the field as a receiver.
"Garver is probably one of our two-to-three best athletes and Zac throws the best ball," Hopkins said.
Because of Garver's athleticism, Hopkins said he will also remain a fixture on defense, where he will be a third-year starter at free safety. That won't be the norm this year, though, as Hopkins has one of his deepest teams yet.
"It used to be our starter was a freshman and the sub was a freshman," Hopkins said. "It sure feels better now to have older kids."
Senior Drew Potter will reprise his role at running back, where he led the Bobcats with 506 rushing yards and 11 touchdowns in 2011. Potter will also factor into what will be the team's tallest task: replacing linebackers Jesse Hiss, who started all four years and will walk on to the University of Colorado's football team this fall, and Dalton Mellies, who averaged more than 11 tackles per game, including a 24-tackle performance against Eudora in the 4A state tournament.
Potter will be joined by junior Jake Phillips, primarily a special teams and situational linebacker as a sophomore, and junior Alex Jackson, whom Hopkins regards as one of the team's fastest athletes.
The price to play
Hopkins initiated the summer 7-on-7 league, which takes place Monday nights in June, when he took over as head coach at Basehor-Linwood nine years ago.
No score is taken and teams rotate to play multiple games with two 20-minute halves.
The former six-team league has swelled to 15, with many familiar faces meeting before throwing on pads in the fall.
"What I want to see them do is compete, Hopkins said. "The biggest thing these kids have to understand is they're going to get beat. It's tag football. There's no blocking there's no linemen. If someone runs past you, you have to shake it off and compete. We're going to make a lot of mistakes and we have to learn to shake it off and don't worry about it."
For Aslin, participation in the league and in his early morning weight program at Bonner Springs went hand in hand. After Friday's practice, he told his team to not think about showing up for 7-on-7 if they weren't ready to lift that day at 6:30 a.m.
Stay tuned for more photos in Thursday's issues of The Sentinel and The Chieftain, with a photo gallery to follow online.