Business aims to promote health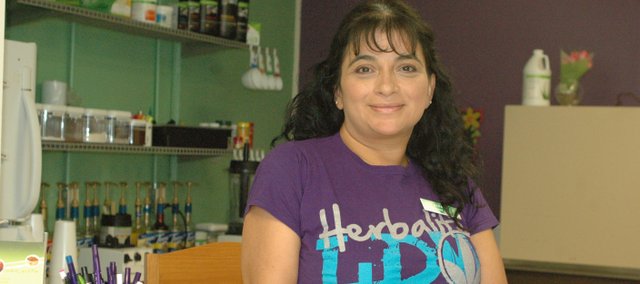 A new downtown business aims to improve the health of the residents of Bonner Springs.
In early May, Aldana Basel opened Nutrition Wrks, 133 Oak St., offering nutrition programs using Herbalife products. And her customers so far say they appreciate a local business providing options for a healthy diet.
"Every time time we talk to someone, they say 'this is a really great idea; Bonner Springs needs something like this,'" Basel said.
Basel previously worked at a similar business in Leavenworth, but decided it was time to grow her own business. She quickly came up with the name, saying she dropped the "o" in "works" to catch people's attention and make the business's name more unique.
She said it also wasn't hard to determine a good location for her new business. Three or four years ago, Basel worked in Bonner, so she was familiar with the town and some potential customers. She also knew there already were other businesses to the north, in Lansing and Tonganoxie as well as Leavenworth.
"I just wanted to come to an area where this business wasn't already saturated," she said.
Basel became familiar with Herbalife products after using them herself. She lost 50 pounds by having two shakes each day. She also has heard stories of weight loss, as well as other healthy benefits, from customers at the Leavenworth store.
"Some people have really bad migraine headaches, and after using the product, it becomes manageable, they're able to control it," she said.
At Nutrition Wrks, customers can sign up for a program and in addition to the dietary products, they get weigh-ins and a body-analysis to give them their percent of body fat and body water, and their bone mass. Customers will get two counselors or coaches, Basel and her sister, Berenice Martinez, to help them through their new diet program. Basel said she and her sister attend monthly training sessions to be properly certified in the use of Herbalife nutritional products.
For example, customers may sign up for a 30-day program of shakes and protein supplements, as well as mango-flavored aloe, a multivitamin and a cell activator. For weight loss, participants might drink two shakes a day and take the vitamins and cell activators daily. There also are programs for those who need to gain weight.
Basel said recent weeks have been her busiest so far, though she is still working to get the word out.
"As we call it, we're still planting the seed," she said. "After a month, we're slowly starting to see people come in."
Contact Nutrition Wrks at (913) 710-0237.