Relay participant walks for research, support of current cancer patients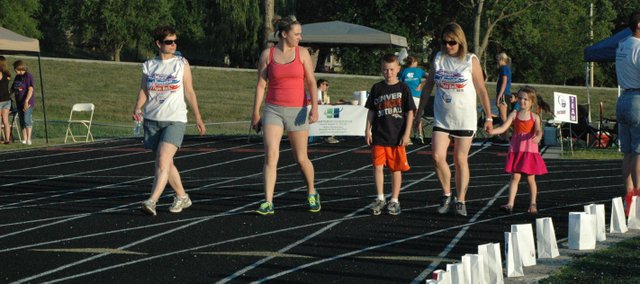 It was her third year walking the track for the annual Kaw Valley Relay For Life, but last Friday Angie Jones had a new purpose.
In December, her mother, Ann Jones, discovered she had Stage 4 colon cancer.
"It came as a total shock to our close-knit family and has never stopped shaking us to our core," said Angie Jones, Bonner Springs.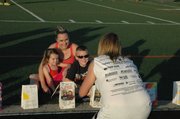 So she walked with Team GUMMption again this year, knowing the funds she raised would go toward research to find a cure for cancer, but also knowing some of the funds would directly benefit those who, like her mother, now are battling cancer.
While her family had lost others to cancer, Jones' mother's diagnosis still came as a surprise. Her mother had been feeling ill for months, but all other indications pointed to another disease.
"To find out that that's what it was — it was cancer — was beyond shocking," Jones said. "We didn't think that's what it was at all."
Jones said her mother's illness hit home much more than the diagnoses of other relatives because she and her mother are so close.
"My mom has been my shoulder to lean on in very hard times and my sounding board for my ideas," she said. "… I consider her my best friend, and if a time comes where I have to live in this world without her, it will be the absolute hardest thing I will have to endure."
Jones' mother began chemotherapy treatments in January but after four treatments, the family learned the cancer continued to spread. She now is being treated with a new drug, though the side effects are more intense than chemotherapy.
Though Jones had participated in Relay For Life the last two years — her co-worker is a breast cancer survivor — she was unaware that the fundraiser's beneficiary, the American Cancer Society, provided helpful funding for current cancer patients as well as cancer research.
It was Jones' sister, Lisa Shultz, who found out that by calling a toll-free number, the family could get help with gas cards, discounted or free lodging, coupons for her nutrition supplements, support groups and free books about nutrition.
The help has been important to Jones' parents, who drive to Topeka for her mother's treatments, so Jones was especially touched when she realized the $2,400 her team raised would help other cancer patients locally.
"I received an email from the Relay for Life headquarters telling me that the money I have raised so far would enable 84 toll-free calls for cancer patients," Jones said. "It's really good to know that you can help people out that much."
So walking the track with her sister, nieces and nephew, watching the release of messages-to-heaven balloons and the lighting of luminaries at this year's relay was all the more moving.
"I think this year was just a little bit more special and a little bit more meaningful," Jones said.
In its ninth year, the Kaw Valley event reached $1 million in net funds raised. Totals from this year's event were still being calculated but had reached more than $52,000 prior to the event.
The event historically has raised at least $110,000 each year.