USD

464 board looking at bond issue for $30 million elementary school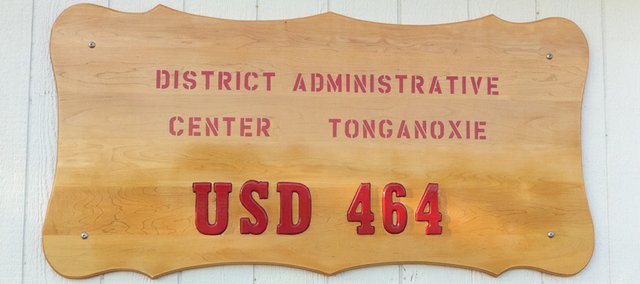 A roughly $30 million bond issue could be on the ballot for local voters in November.
The Tonganoxie USD 464 School Board expressed its interest in looking closer at an option presented at Monday's meeting to put before voters.
HTK Architects presented preliminary proposals, one of which would provide for a kindergarten through fifth elementary school near Tonganoxie Middle School with an estimated cost of $30 million.
The current elementary school would be a mixed-use building. Some potential uses to be explored for the current elementary school if a new school were built: overflow classrooms for future growth needs in the district, shared space with City Hall, possible library needs, a community center, board of education needs, district special needs cooperative, parks and recreation, possible community college classrooms and virtual school.
Capacity would be 1,200 students for the six grades. Under the configuration, the middle school would become a 6-8 building. Currently, TES has kindergarten through fourth-grade classes and TMS is 5-8.
Current population is 715 at TES with ideal capacity being 616. At TMS, current population is 572 and ideal is 625. And at the high school campus, current population is 572 with ideal capacity being 800.
Other options presented at the meeting:
• Adding classrooms to the current elementary school and making handicapped accessibility upgrades to bathrooms in the current school. Also, adding eight classrooms — two on each wing — at TMS. Capacity would go to 682 at TES and 825 at TMS.
Estimated cost: $7 million.
• Building a grades 3-5 intermediate school near TMS for roughly $15 million and making the aforementioned upgrades to TES.
Capacity would be 616 at TES, 650 at the intermediate school and 625 at TMS.
Estimated cost: $17 million.
The board next will meet July 9. If the board approves a resolution for the bond issue at that time, it would allow enough time for the measure to be put on the November ballot.
Voters said no to a $26.9 million bond issue in April 2011 that would have provided expansions at all three USD 464 campuses. Board members have said the current bond issue discussion needed to be focused solely on an overcrowded TES.
Resignations, hirings and terminations
The board accepted resignations and approved contracts for 2012-13 at Monday's meeting
Resigning were Barb Gurss, TMS physical education teacher; Jessica Johnston, THS art teacher; Susan Kuzmic, THS assistant softball coach; Pam Lamb, THS family and consumer science teacher and Family, Career and Community Leaders of America sponsor; Lee Matzeder, THS head softball coach; Rachel Padfield, seventh grade assistant volleyball coach, Andrea Putthoff, bus driver; and Kim Woodall, TMS assistant track coach.
The board also approved contracts for Kimberlyn Angelo, TMS band/vocal music teacher; Spencer Dale, THS assistant volleyball coach; Tara George, THS family and consumer science teacher; David Hall, THS assistant girls' basketball coach; David Hillmon, eighth grade boys' head basketball coach, THS assistant football coach; Courtney Nicholson, TES teacher; Rachelle Pauly, eighth grade girls' assistant basketball coach; Jared Schultz, TMS physical education teacher; Kim Swearngin, FCCLA sponsor; Preston Troyer, THS half-time business technology/half-time physical education teacher; and David Walker, THS girls' assistant basketball coach.
In addition, the board voted not to renew the contracts of Heidi Kate Andre, TES art teacher, and William Gibbs, math teacher for sixth through eighth grades.
Hires, resignations and terminations were approved with approval of minutes, bills and treasurer's report. The agenda items passed, 6-1, with board member Kathy Baragary voting against.
In other business, the board:
• Approved, 7-0, enrollment fees for 2012-13.
• Approved, 7-0, TES and TMS handbooks, with a bullying addition to the TMS handbook.
• Approved, 7-0, 2012-13 student accident insurance with Student Assurance Services for $11,393.
• Approved, 7-0, the 2012-13 Parents as Teachers agreement for $17,300.
• Approved, 7-0, authorizing superintendent, board clerk and auditor moved to authorize the superintendent, the board clerk, and the auditor to make the necessary transfers to the special funds and transfer the legal maximum amounts provided by law to the contingency reserve fund, the capital outlay fund and any of the special funds from the general fund and supplemental fund subject to receipt of the district's final state aid payments.