Bonner Springs girls hold off Piper, advance to Saturday's sub-state final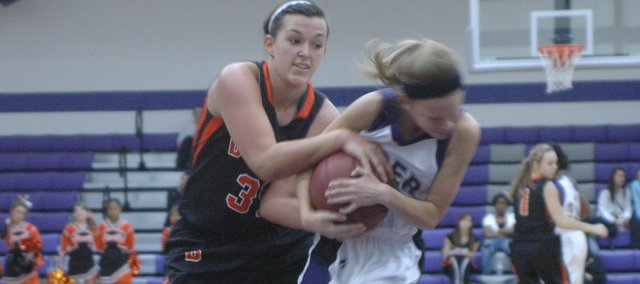 Bonner Springs coach Clay Oakes walked into the locker room and asked his players a simple question following Thursday's 38-25 victory against Piper.

"'Do you all feel as relieved as I do?'" He asked.

Yes, there were sighs all around the room.
After all, this is tournament basketball and sometimes a matchup can make tournament seeding and overall records irrelevant.

Oakes said that when he looked at the game, Piper posed problems based on the style it wanted to play. Piper slows down the pace of play with a deliberate offense and a zone defense.
The pace worked for the first eight minutes of play as
Bonner Springs often took just one shot or turned the ball over on possessions.
Piper led 6 to 4 at the end of the first quarter.
In the second quarter of the game, though, Bonner Springs outscored Piper 10-1 and built a lead it would never relinquish.
Anna Deegan and Yessinia Hernandez each scored four points in the quarter. 

On defense, Bonner Springs forced turnovers and rebounded the basketball often after Piper's initial attempt.

Piper did not score a field goal for a 14-minute span of the second and third quarter. The Pirates only second quarter point was a made foul shot by Taylor Johnson who led the team with 11 points in the game.

The Braves led 14-7 at halftime. In the third quarter, Bonner Springs outscored Piper 9-6 and led 23-13 entering the fourth quarter.
Piper scored 12 points in the fourth quarter, but Bonner Springs was able to maintain its lead by making 11 of 17 foul shots. Deegan was 6-of-7 from the foul line, with Hernandez making 2-of-6 foul shots and Erin Marx going 3-of-4. Marx also hit two field goals to help maintain the double-digit lead.
Deegan led the team with 15 points, and Marx scored nine points. The game was played within the three-point line as neither team made a 3-pointer.
With the win, Bonner Springs advances to play Tonganoxie at 6 p.m. Saturday in the Class 4A Sub-state Championship game. The winner advances to the Class 4A State Tournament in Salina.

"Yeah, it is gonna be a dog fight between two league opponents who know each other well," Oakes said.