Bonner Springs girls basketball 'set the standard' for teams to follow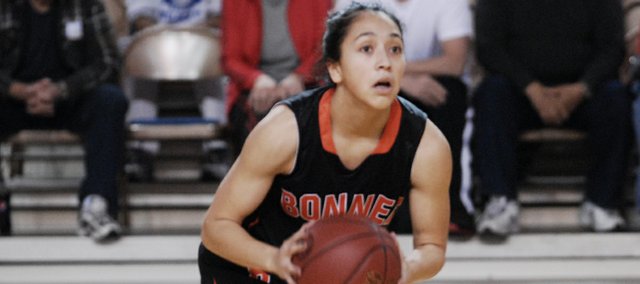 Real-time coverage
Read a round-up of our live coverage from the state tournament.
Photo Gallery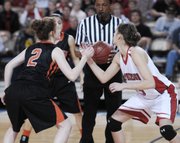 Bonner Springs basketball girls fourth at state
The Bonner Springs girls basketball team finished fourth at the 4A state tournament in Salina on Saturday, March 10.
Salina — Yessenia Hernandez' eyes are red and damp around the edges, but she's smiling as she walks out of a locker room as a high school basketball player for the last time.
She's standing 50 yards from the spot where it all ended in the 4A state tournament's third-place game on Saturday against Ottawa. The same spot where she sprinted up court, the Braves down 47-45, and hit a go-ahead 3-pointer with 27 seconds left in overtime.
"Oh, I've got to take this," she said she thought to herself when presented with an eye-widening open look. "You never know if it's going to open up again. So I just shot it."
It opened up one more time, the Braves down again and just a few tics left on the clock. Only this time Ottawa had learned its lesson and put two players on Hernandez, relegating what little opening she had before to a space as wide as a soon-to-be-closed door.
Her shot bounced off the rim, the buzzer sounded, Hernandez collapsed.
Ottawa 49, Bonner Springs 48.
After she was helped up off the court, after the Braves accepted their fourth-place medals with the look of having swallowed a spoonful of purple cough syrup, Hernandez' jersey was buried under the grey hooded sweatshirt she wore as she exited the locker room.
The disappointment behind her, she smiled. How could she not?
"I've been working for this my whole four years," she said.
The Braves had just concluded their first trip to state. Afterward, coach Clay Oakes called the girls the class that set the standard for all those that will follow.
"You guys did everything right at the end," Oakes told his team after the game. "The bottom line was that they made a play."
Ottawa's Jordan Baldwin, who finished with a game-high 29 points, drilled a 3-pointer to tie it with 27 seconds left in regulation.
To get to that point, Bonner Springs had to overcome a 13-4 first-quarter deficit.
"We just came out flat," Oakes said. "We weren't ready to go. Our intensity was not there to start the game. Then the girls decided it was go time."
In the run that followed, junior Anna Deegan opened the second quarter with a 3-pointer and scored her team's first six points of the quarter — she would finish with a team-high 21 points.
"I'm so proud of her," Hernandez said. "She picked up half my slack."
Deegan also led the Braves in scoring against McPherson on Friday with 16 points.
"She's got more will than any player I've ever coached," Oakes said. "Fortunately for us, she's a junior and we get another season."
With 1:45 left in the first half, the Braves tied the game at 19-all after two free throws by junior Haley Hoffine, who at 5-foot-7 would lead the Braves with eight rebounds against Ottawa.
Hernandez foreshadowed her late-game heroics with a buzzer-beating 3-pointer to give the Braves a 23-21 lead at halftime. Bonner Springs continued what would be an 11-0 run in the second half, taking a 31-21 advantage at 5:27 of the third quarter.
But Baldwin would be too much for the Braves, scoring seven fourth-quarter points to tie it, and all five of her team's overtime points to win it.
The loss stung as it came less than 24 hours after the Braves dropped a 49-40 semi-final game to eventual state-champion McPherson on Friday.
Against the Bullpups, Bonner Springs was whistled for 28 personal fouls, 15 more than their opponents.
"I thought throughout the game that they got some calls that we didn't," Oakes said. "That was the difference."
After the loss, Oakes reminded the team of its motto all season: Live in the moment. They've carried that with them through a 15-0 start, a Kaw Valley League title and the program's first state trip.
Saturday represented a new moment for the Braves. That one too behind them, 2012-13 will bring with it yet another: a season in which Bonner Springs begins as leaders of the pack.