Spring sports forecast: Basehor-Linwood High School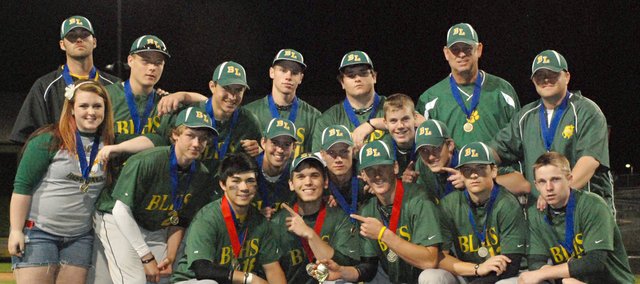 Basehor-Linwood student athletes return this spring with goals of competing for postseason berths in a variety of sports.
In softball, the Bobcats return a talented nucleus of players that hope to make the team's seventh trip to the state tournament. Last year, the team lost to Girard, 2-0, in the opening round of the tournament.
In baseball, Basehor-Linwood made its first trip to state last season and expectations are high again. In track and field, Dakkota Edmonds is a returning state champion in the 200-meter dash and the team has a nucleus of athletes who return with state experience.
The boys' team must replace Daniel Prioleau who is now at Kansas University, but has a group of athletes with varsity experience. The golf team enters the year with experience plus a crop of freshmen and transfers battling for varsity spots. And in soccer, the Bobcats continues building under second-year coach Derek Mazetis.
The following is a look at Basehor-Linwood's spring sports prospects.
SOFTBALL
While Basehor-Linwood's sixth trip to the Class 4A State Tournament under coach Susan Mayberry didn't end as the team had hoped, it does return a talented group.
Shelby Pierce, a part-time pitcher and first baseman, is the only starter not returning from last year's team.
"She was a four-year starter who won a state championship, and a league championship," Mayberry said. "Her knowledge and experience will have to be picked up and carried."
The Bobcats have a talented group to carry the load in seniors Brooke Redmond, Hannah Tush, Olivia Cowan and Kortney Rist. The players all were sophomores on the team's state championship team. Junior Courtney Leive and sophomores Candice Jennings, Allison Kasick and Kayleigh Schoenfelder also return.
BASEBALL
Basehor-Linwood's baseball team made history last season qualifying for the Class 4A State Baseball tournament in coach Brian Lohafer's first season.
The Bobcats, who finished 12-12 in the regular season, played their best baseball at the end of the year, making big plays at pivotal times.
"There was a great chemistry on last year's team and we want to try and create some more good chemistry with this team," Lohafer said.
Now, the Bobcats have the challenge of going forward without the services of a talented group of seniors from last season. Pitcher/catcher Jared Patton, pitcher/centerfielder Destry Bryan, first baseman/pitcher Austin Stubbs and pitcher/shortstop Nathan Quigley have all graduated.
Still, the team returns a talented group of players.
Skylar Barnes, Tyler Ogden and Garret Kahle are the team's returning seniors. Juniors Tanner Garver, Zach Hevel, Joe Merino, Drew Potter and Seagar Smith return to the team. The only sophomores that saw action last season are Bryan Crowe and Andrew Magana
TRACK AND FIELD
Dakkota Edmonds headlines Basehor-Linwood's list of returning track athletes. She ran away from the competition during her junior season, winning the 200-meter dash at the state meet in Wichita.
She was also the runner-up in the 100-meter dash, and set school records in the process.
In addition to Edmonds, Basehor-Linwood performed well in the state meet and hopes to repeat that success this season.
"We have an experienced core group and we hope to continue to improve and look to take a good group back to state this spring," Hopkins said.
The boys 4x100 team also won state last year. While two athletes graduated, juniors Lane Young and Trey Kincheloe are returning. The key to success in the race will be determining who can run the other legs based on times and also chemistry.
Young also placed fifth at the state meet in the long jump and is close to setting a school record.
Ben Johnson also returns for his junior track season. Johnson who has signed to play football at Kansas University is a versatile athlete for the Bobcats this season. He was a state qualifier in the high jump and came close to qualifying in the discus. He also plans to throw the shot put this season.
In the girls throwing events, Bailey Hooker qualified for state in the shot put last year.
"She had never thrown until last year as a junior and really started to figure things out late," Hopkins said.
Victoria Smith and Malorie Belk also placed in the league shot put.
Other athletes to watch include Matt Ogilvie, who placed fourth in the league meet last season, and Tyler Simpson, who also placed and is hoping to be a factor in league and state in the pole vault.
The team will have to repeat its past success in relay events without Daniel Prioleau, the school's record holder in the 100- and 200-meter dash.
Basehor-Linwood opens the season at the Baldwin Invitational on March 30, which Hopkins said will be a great chance to see where his team's young performers are at early in the season.
GOLF
Basehor-Linwood returns a trio of golfers with varsity experience to this spring.
Alec Otting, Brett Fritz and Neal Dickson lead this group. The Bobcats also have some students that have transferred into the district and freshmen who are all competing for varsity spots.
"We have high expectations this year," coach Bruce Courtney said. "We have had several kids play a lot golf over the offseason and they have gotten a lot better. Combine that with the freshman and others new to the program and we will have some great competitors."
The Bobcats enter the season having to replace Gabe Vlasic who qualified for the Class 4A State Tournament last season and has since graduated.
He placed in most tournaments last season for Basehor-Linwood, finishing fifth in the regional tournament to qualify for state. Vlasic was a testament to what a player can do when he dedicates himself to the game of golf.
"Gabe started at the end of his junior season and made a commitment to get better and to get a scholarship to play golf in college," Courtney said. "He did just that, he got a job at a golf course and work and practice and submerged himself into golf. He went from just another golfer to the number one spot on our team."
If Vlasic was the highlight, then perhaps the low was that the team never had all of its players perform well in one tournament.
"We would get different people at different times playing really good golf, but someone else would struggle," he said. "Then the next week it would switch around."
SOCCER
Basehor-Linwood opens its the second season under coach Derek Mazetis on March 28 against Baldwin.