Spring sports forecast: Bonner Springs High School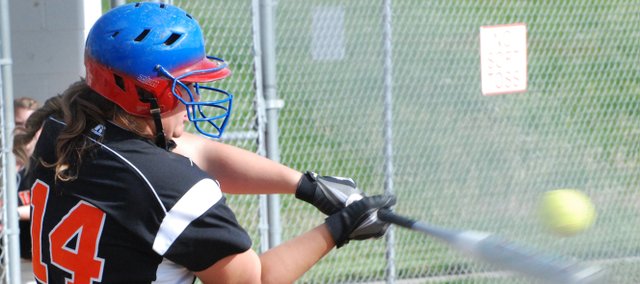 A feeling of hope and a sense of a fresh start surround the practice fields for the Bonner Springs baseball and softball teams.
While Bonner Springs might have a new coach in the dugout in Denise Chowning, the Braves will field an experienced squad.
The team returns seven letter winners from last season that make up the nucleus of the roster. That group of players includes four who earned Kaw Valley League awards in 2011.
Shortstop Breanna Tendrick was a second-team All-KVL shortstop and Cassady Holloway earned honorable mention honors as a pitcher and third baseman. Kylee Timberlake earned second team honors for her play at first and third base.
Timberlake hit two homers last season, including a grand slam to beat Lansing. She has signed to play softball at Kansas Wesleyan next year.
Shelby Thornton was a second-team selection as a centerfielder.
In addition, Sammy Ricci-Weller, Kennedy Bizzell and Meagan Stice return this season.
Chowning wants to develop student athletes into well-rounded individuals and for them to pursue excellence on and off the field. The team also is stressing spirit, pride and sportsmanship in addition to developing a winning reputation. Finally, she wants smart players on and off the field.
BASEBALL
Scott Lero is in his first season leading the Bonner Springs baseball team. He has a few goals for the upcoming season as he learns more about his roster and prepares for the season opener.
"Our expectations are to play the game aggressively and have fun," Lero said. "The boys just need to be willing to work hard and play together as a team, and I believe it can be a successful year."
Part of Lero's optimism is a product of the Braves' experience. Bonner Springs returns a core group of players with varsity experience. This group includes pitcher and infielder Sergio Valenzuela, catcher Gonzalo Pichardo, outfielder Shawn Jones, infielder Matt Call, outfielder Jonathan Blackwell, infielder Luis Gardera and infielder Logan Terrell.
"I think we have the potential for some players to have some good years," Lero said. "Pichardo works harder than anyone I have coached in a long time."
Lero also expects big things from Valenzuela this season.
"If we can get him to stay down in the zone and be consistent, then he could have a really good senior year," he said.
SOCCER
Mike Moulin is among the most tenured of Bonner Springs' coaches. He enters the season with an experienced roster and expectations for what his players can do this season.
He has lofty goals of qualifying for state entering the season, perhaps hoping to carry over from the success basketball players experienced during the winter months.
"My expectations this season is simple, go to state," Moulin said. "In order for us to achieve this, the players have to work hard, and play as one."  
Returning to the pitch will be Yessenia Hernandez, Bailey Hightower, Anna Deegan, Haley Hoffine, Skyler Taylor, Emily Hunt, and Madison Morris.  
The Braves hope to build upon a 2011 in which the team improved dramatically throughout the season.
"With a tough schedule the ladies played hard, and by the end of the season I felt they grasped a strong understanding of the game," Moulin said.
The team opens the season with three games next week. The Braves host Tonganoxie on Monday in the home opener and then travel to Ottawa on Tuesday. The Braves then host Gardner-Edgerton on Thursday.
TRACK AND FIELD
Last year the Bonner Springs girls track and field team raised its performance level in a variety of sports.
A program that had not realized a lot of success in recent years achieved a lot at the Class 4A state championship meet in Wichita.
Bethany Bailey placed fifth in the pole vault by clearing 10-6 in the pole vault, setting a school record in the event. Bailey wasn't the Bonner Springs girls' lone state medalist. Senior Bridgett Bradley — a four-time state qualifier — became a two-time state medalist with a seventh-place finish in the discus.
Following the season, coach Bill Downing called it a year of building blocks and that the team would return an influx of talent with quality freshmen entering the program.
The 1,600-meter relay team of sophomore Emily Hunt, junior Emily Wilson, freshman Cheyenne Hale and senior Lindsay Hunt turned in its fastest time of the season while placing 16th in 4 minutes, 19.56 seconds. Three of the four runners will be back in 2012.
Additional returning talent will include distance standout Mandy Ballou, throwers Erica Wilson and Maryssa Peterson, sprinters Tyreeka Johnson and Jene Williams, and hurdler Kelsey Ballou-Lyngstad.
The Bonner Springs boys' 1,600-meter relay team found its way onto the medal stand last season.
The squad of freshmen Tre Scott, senior Nick Carver, senior Cameron Callahan and freshman Austin Schuler was seeded sixth entering the finals. The team ultimately finished fifth in 3:29.83.
The Bonner Springs boys and girls both finished 36th in the team standings. Bonner Springs' Track and Field athletes open up the season at 3:30 p.m. Friday in the Baldwin Invitational. 
The team will then compete in the Basehor-Linwood Relays on April 5. Other meets include the Bonner Springs Invitational on April 19 for athletes not qualifying for the Kansas Relays that same weekend.
The Kaw Valley League meet will take place on May 9. The Class 4A Regional Meet will take place on May 18. 
SWIMMING
With three years of experience, Toni Stock leads Bonner Springs this season.
She also participates in a year-round swim program and has state experience swimming in both relay and individual events.
She headlines the team's list of returning swimmers, and coach Lynn LaNoue has a trio of returning swimmers who figure to make this season competitive for the Braves. In addition, junior Stephanie Rose and sophomore Elizabeth Barger return for the Braves. Joining these girls are senior Scintila Capalla and freshmen Akiko Capalla, Lei'Onna Smith, Cassie Stock and Madison Stumbough.
LaNoue said he also likes the new team because they come with year-round swimming experience.
"The hope is that they will be able to step up and contribute in such a way that the team is able to be highly competitive," he said.
This story reflects a corrected version of the March 22 articule. Bonner Springs tennis coach Bill Scott is the school's most tenured coach with 33 years coaching at the school.